14-year-old arrested on gun charges in Halloween weekend shooting in Florida
A 14-year-old boy was arrested on gun charges in connection with a Halloween weekend shooting in Tampa, Florida, in which two people died and 15 others were shot and injured, police said Thursday.
Tampa Police Chief Lee Bercaw called the shooting, which occurred early Oct. 29, "completely unacceptable" and said no one that young should be carrying a gun.
The shooting occurred during a fight between two groups around 3 a.m. during Halloween festivities in Ybor City, a neighborhood in Tampa, officials have said.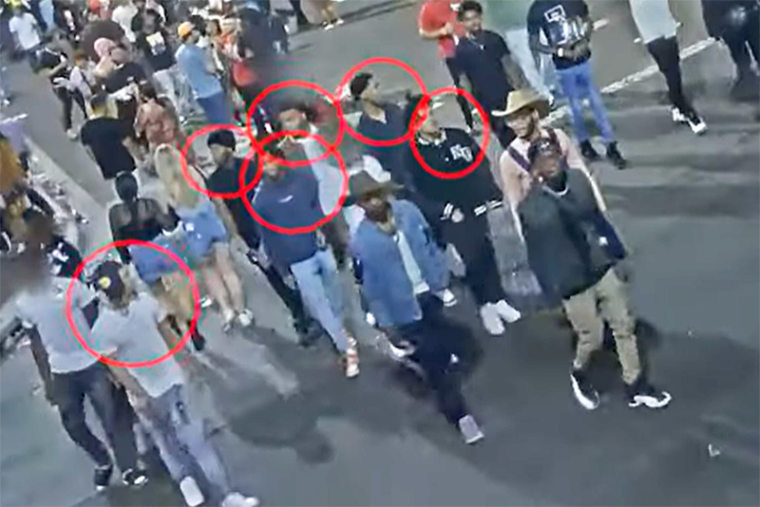 One other person, Tyrell Stephen Phillips, 22, was arrested and has been charged with second-degree murder, police said.
Police are still looking for seven other "persons of interest," Bercaw said. Police released video images showing them circled.
The 14-year-old who was arrested Thursday is not among those seven because police already had leads on him, Bercaw said.
A 14-year-old and an adult man were killed, according to police.
Officers at the scene saw the person, now identified as the 14-year-old, "displaying a firearm before fleeing the scene" of the fight and shooting, police said.
"There is no reasonable explanation for a 14-year-old to be in possession of a firearm," Bercaw said in a statement.
Bercaw said at a news conference that investigators are looking into who fired shots and how many shooters there were.
NBC News is not naming the 14-year-old who was arrested because of his age.
---