3 arrested after caregivers in New Mexico were accused of torturing deceased disabled woman
ALBUQUERQUE, NM – "Torture" is how New Mexico's top prosecutor describes the treatment a 38-year-old woman with a developmental disability endured before her death at the hands of her caregivers, who he says were paid thousands of dollars a month through a special program designed to provide an alternative to institutional care.
Attorney General Raúl Torrez detailed the woman's injuries at a press conference on Thursday, saying she died weeks after she was found in the back of a van as medics attempted to take her away to Mexico so that his wounds could be treated.
"The abuse and neglect she endured was horrific and the injuries she suffered are some of the worst I've seen in my career as a prosecutor," Torrez said. "It was torture. There's really no other word for it."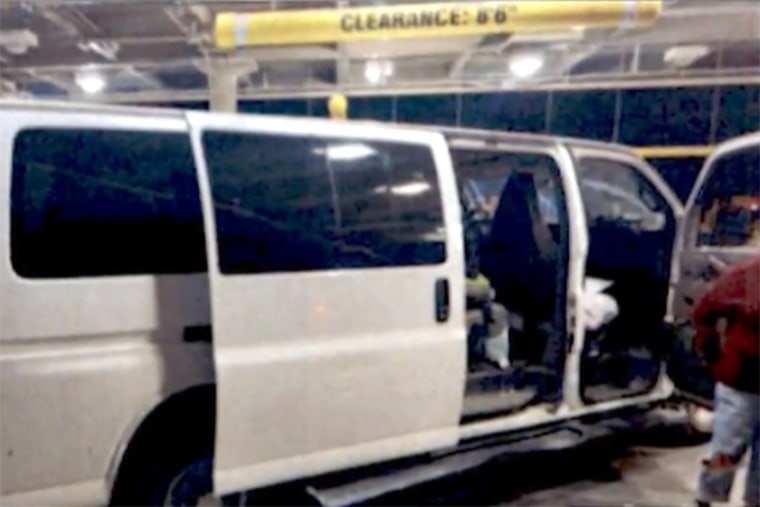 Three people were arrested and charged with abuse and neglect on Wednesday following an investigation that began with the stop at the US-Mexico border in late February.
The case spurred a statewide review of New Mexico's entire disability waiver system. Social workers have spent weeks performing individual wellness checks on thousands of people with developmental disabilities who are receiving care under the federally funded waiver program.
Other allegations of possible abuse and neglect were reported, and the state health department canceled contracts with four Albuquerque-area providers.
An affidavit filed by the attorney general's office details the abuse that prompted the charges laid Wednesday against Angelita Rene Chacon, 52, and Patricia Hurtado, 42, both of Rio Rancho. They face charges of resident abuse or neglect resulting in death, false imprisonment and conspiracy to commit false imprisonment.
Luz Scott, 53, of Clovis, an acquaintance of the women, has been charged with false imprisonment and conspiracy to commit false imprisonment.
Messages seeking comment from Daniel Lindsey, a listed attorney for Scott, were not immediately returned. Court records did not indicate whether Chacon and Hurtado still had attorneys.
The women were due to make their first court appearances on Friday.
According to the attorney general's office, Chacon and Hurtado contracted with At Home Advocacy and three other contractors to provide additional care for the victim. They were getting about $5,000 a month under the waiver program to care for her.
Prosecutors say a preliminary review of available business records indicates At Home Advocacy received nearly $250,000 to coordinate care and support for the victim in the three years prior to her death.
Records show the company last visited the home Jan. 25, a month before the victim was found at the El Paso port of entry.
According to court records, an At Home Advocacy supervisor told FBI agents that the company conducted monthly wellness visits to Chacon's home, but that "body checks" were not performed during the visit. these visits and that no injury had been observed.
Authorities said the deceased woman was severely dehydrated and drugged when she was found in the van. She also had numerous open wounds, bedsores with exposed bones, and bruises and lacerations on various parts of her body.
They also described marks compatible with prolonged restraint.
Unable to speak when discovered by federal agents at the border crossing, she was transported to University Medical Center in El Paso, Texas, where she died April 7. The Associated Press does not usually name people who were abused.
Democratic Governor Michelle Lujan Grisham and top health officials had warned that any caregiver who mistreats and mistreats people with developmental disabilities or otherwise vulnerable would be held accountable.
Republican legislative leaders also called on the federal government to investigate, saying an independent inquiry would ensure transparency and could prevent such cases in the future.
Torrez and Raul Bujanda, the FBI's agent in charge in Albuquerque, both called the case "a wake-up call" about the treatment of people with developmental disabilities in New Mexico.
The deceased woman "could easily have been our beloved," Bujanda said. "You expect, you demand your loved one to be taken care of in such a way that…the only thing you will ever worry about is taking the time to go see them."
Torrez urged the governor and lawmakers to revise state Department of Health protocols. His suggestions included increased staffing and training, mandatory 90-day inspections, and new civil and criminal penalties for businesses and suppliers.
He counted 12 "listeners" for more than 6,000 sites statewide and blamed administrators and the legislature for relying on healthcare providers to self-report issues.
"That's one of the fundamental issues that arose in this case," Torrez said, suggesting that lucrative state contracts don't incentivize suppliers to police themselves.
Health Secretary Patrick Allen said on Thursday an independent investigation was underway to identify any systemic flaws that would allow abuse or neglect to go unchecked. He also said the agency would continue to refer any other alleged cases of abuse and neglect to law enforcement.
"People with disabilities often depend on others for their daily lives. They literally entrust their lives to their caregivers," Allen said, adding that when their care is covered by a state program, "everyone is responsible and we need to make sure their health and safety needs are met. satisfied".
---