9 dead including a suspect, 3 in critical condition
Nine people, including the suspect, died after a shooting Saturday at a Dallas-area mall, authorities said.
Seven people died at the scene of Allen Premium Outlets and two others were pronounced dead at a hospital, Allen Fire Department Chief Jonathan Boyd said.
Three people remained in critical condition Saturday evening and four were stabilized, Boyd said.
Allen Police Chief Brian Harvey said earlier Saturday that the suspected shooter was 'disabled' by a city police officer responding to a call unrelated to the mall, he said. .
Janet St. James, a spokeswoman for Medical City Healthcare, which operates multiple trauma centers in North Texas, said she received eight shooting patients between the ages of 5 and 61.
Authorities have not released the names of those killed.
Law enforcement responded to reports of an "active shooter" inside the Allen Premium Outlets at 3:36 p.m., officials said. Allen is a town about 30 miles north of Dallas.
Video taken by witness Denison De Souza from the parking lot showed people taking cover and others running through traffic as the sound of nearly a dozen separate gunshots could be heard.
The U.S. Bureau of Alcohol, Tobacco, Firearms and Explosives describe the situation as an "active shooter incident" and said he was responding to the mall.
There was very little information available on the suspect, whose identity has not been made public.
Speaking at an early evening press conference, Harvey said: "We believe he acted alone and we don't believe there is another threat at this time."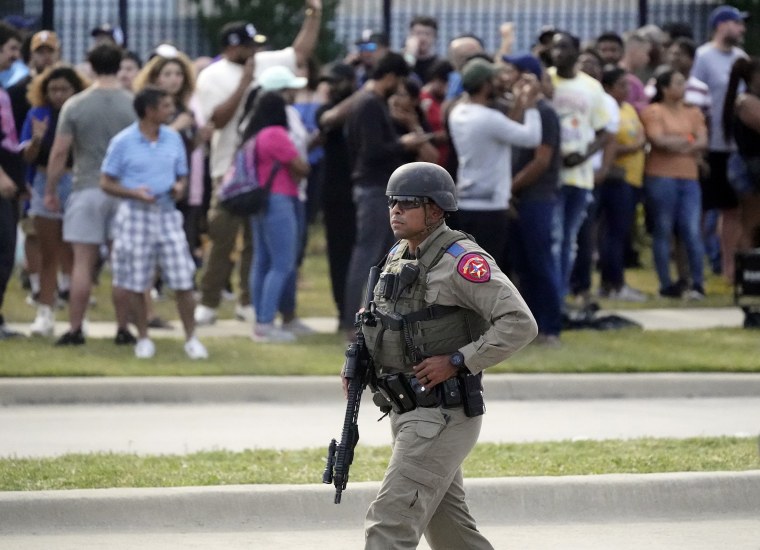 A silver sedan on the property appeared to have been shot and was in an area cordoned off by investigators, according to NBC Dallas-Fort Worth coverage.
Responding law enforcement officers helped shoppers evacuate and clear each retailer to ensure no danger remained, reports said.
Several shoppers and mall employees said they heard gunshots and hid where they could before fleeing or barricading themselves in the back rooms.
Stan and Mary Ann Greene were browsing the Columbia sportswear store when the shooting began.
"We had just walked in, a few minutes earlier, and we just heard a lot of loud noises," Mary Ann Greene told The Associated Press.
Employees immediately lowered the security gate and led everyone to the back of the store until police arrived and escorted them away, the Greenes said.
Several witnesses reported seeing bodies, some of which were covered.
Tarakram Nunna and Ramakrishna Mullapudi said they saw what appeared to be three people lying motionless on the ground, the Associated Press reported.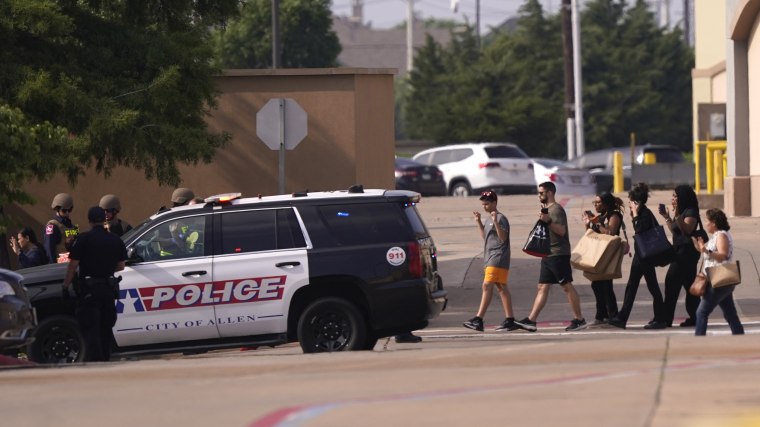 Governor Greg Abbott called the situation "an indescribable tragedy".
"Our hearts are with the people of Allen, Texas tonight during this untold tragedy," he said.
Full state support was available to Allen officials and first responders, Abbott said. Resources include officers from the Texas Department of Public Safety, Texas Rangers, and investigative assistance.
The White House reached out to city leaders on Saturday, Allen Mayor Ken Fulk said at a Saturday night press conference.
Allen police said the attack is still under investigation and people should continue to stay away from the mall.
The FBI asked anyone with information or clues about the shooting to report them to the agency.
The mall operated by Simon Property Group occupies 69 acres and is home to over 120 retailers. The company offered its thoughts and prayers to the victims and others affected by the attack, and thanked the police who arrested the suspected shooter.
"We are horrified by today's senseless tragedy and outraged by the violence that continues to plague our country," he said in a statement late Saturday.
Andrew Blankstein, Christian Santana, Claire Secrist, Joe Kottke, Emma Li And Associated press contributed.
---