9 people, including 3 children, injured in shooting near beach in Hollywood, Florida
HOLLYWOOD, Fla. – Nine people were injured Monday night when gunfire erupted along a seaside promenade in Hollywood, Fla., sending people running frantically for cover along the crowded beach on memorial day.
Several of the injured were taken to a children's hospital, police spokeswoman Deanna Bettineschi said.
The nine people injured included six adults and three children, according to Yanet Obarrio Sanchez, spokesperson for Memorial Healthcare System. All of the victims were in stable condition, she said.
Bettineschi said four young people between the ages of 1 and 17 were affected, along with five adults between the ages of 25 and 65. One was in operation Monday evening while the others were stable, she said. It was not immediately clear whether the hospital was counting a 17-year-old as an adult.
Bettineschi said the shooting happened shortly before 7 p.m. A fight broke out, at least one gun was drawn and shots were fired. At least one person was in custody, but police were looking for other suspects.
Police Chief Chris O'Brien said thousands of people were in the area and dozens of officers responded, some of whom were nearby.
"It's unfortunate that we have law-abiding citizens coming to our beaches and being interrupted by a group of criminals," he said.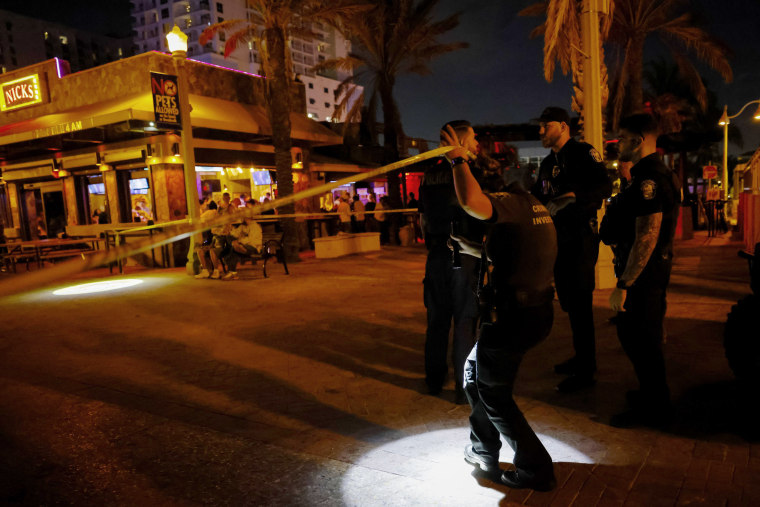 The shooting happened on the Hollywood Oceanfront Broadwalk near a convenience store, a Ben & Jerry's ice cream shop and a Subway sandwich shop.
Alvie Carlton Scott III said he was on the beach when he suddenly heard numerous gunshots. He said he hid behind a tree and then fled after a police officer told people to run.
Jamie Ward, who was also on the sidewalk, said several young men were fighting outside the shops when one pulled out a gun and started shooting.
Videos posted to Twitter on Monday evening showed emergency medical teams responding and providing aid to several injured people.
Police said there would be a heavy presence of officers as the investigation continued. Authorities have also set up a space for family members to reunite.
"Thank you to the good Samaritans, paramedics, police and ER doctors and nurses for their immediate response to help the victims of today's shooting," Hollywood Mayor Josh Levy said in a statement. a statement.
Hollywood Beach is a popular beach destination about 11 miles south of Fort Lauderdale and 20 miles north of Miami. The beach was expected to receive more visitors than usual due to the Memorial Day holiday.
---