Atomic Heart video game draws Ukrainians' attention to ties with Russia
New video game Atomic Heart, set in an alternate history in which the Soviet Union experiences a post-WWII tech boom, faces allegations that it peddles dangerous pro-Russian propaganda and criticizes perceived ties from its developer with Russia in the midst of the invasion of Ukraine.
On Friday, Ukrainian Deputy Prime Minister and Minister of Digital Transformation Mykhailo Fedorov tweeted official letters he sent to the heads of Sony, Microsoft and Valve, urging them to block Atomic Heart from their gaming platforms.
Fedorov raised concerns that "there is a potential risk that money from game purchases will be transferred to Russia's budget, so it will be used to fund the war against Ukraine."
NBC News was unable to find evidence that gambling revenue was used to fund the war.
Online, other critics shared Fedorov's concerns.
The game's critics, some of whom are Ukrainians in the gaming field, are asking players to stay away from Atomic Heart, imploring them not to buy or play the first-person shooter.
"Some users might claim that they could just hack it [Atomic Heart], and do not pay money to Russian developers, while enjoying the game. To this I can not say anything. At this point, it just depends on your moral compass," Ukrainian YouTuber Harenko said in a video about the game.
Critics of Atomic Heart have pointed to an alleged link between Mundfish, the game's developer, and Russian state-sanctioned and state-sanctioned corporations and enterprises – a charge that Mundfish denies. Those calling for a boycott have also suggested the game is Russian propaganda.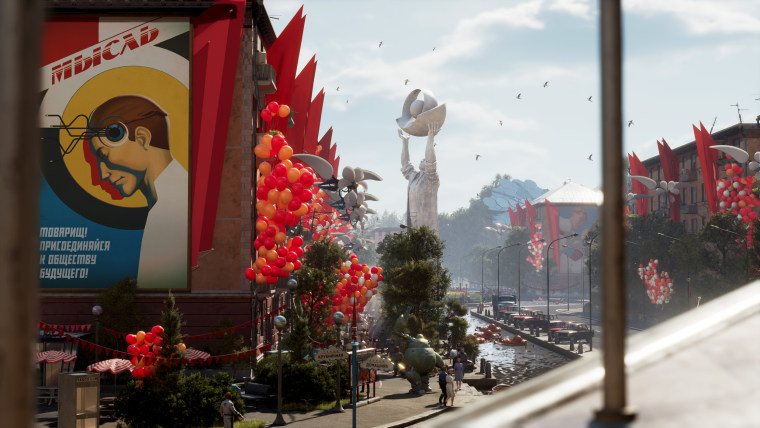 Atomic Heart is set in a thriving 1950s Soviet Union, where robotics and technology have advanced far beyond our modern times. The story follows the fictional character Major Sergey Nechaev, who also goes by P-3, who must stop a group of robots who have gone rogue and started killing the locals.
Thanks to Nechaev, the player unravels the mystery of why the robots went on a killing spree. The game has been compared to BioShock, the hugely popular first-person shooter released in 2007. Atomic Heart, with its clean graphics and unique gameplay, has received positive reviews since its debut.
Those who believe the game is propaganda point to things like Atomic Heart's aesthetic: a utopian USSR where red banners adorned with hammers and sickles are a frequent part of the backdrop. Critics are also wary of the game's main character, Nechaev, who is a member of the KGB and loyal to the USSR. Fedorov specifically pointed to the game's promotion of the "Communist regime and Soviet symbols". (NBC News did not air Atomic Heart.)
"This kind of approach to showcasing the USSR and Communism is a thin line between using it for world-building and praising it," Harenko said in a video titled "Please don't buy no atomic heart". Harenko, whose video about the game has received more than 2 million views, said in the video that he thinks the game crosses that line.
Harenko did not respond to a request for comment.
Production of Atomic Heart, which was announced more than five years ago, predates full-scale production Russian invasion of Ukraine. The company behind the game and its investors deny ties to Russia and the Russian government.
Still, Atomic Heart remained a flashpoint for the debate over the ethics of buying a game. In his letters, Fedorov said concerns stemmed from the fact that Mundfish was a Russian-run Russian company. . Critics like Fedorov say they fear the money the title will end up financially supporting Russia's invasion of Ukraine. Critics point the finger at Mundfish investors, including GEM Capital, a company founded by a former executive of a Russian oil and gas company. The debate has consumed corners of TikTok, Twitter and YouTube.
"The fact that Russians can easily launch a propaganda-packed video game and list it on Microsoft, Steam and Nintendo stores in the midst of a war against a sovereign nation is the ultimate proof of how soft the sanctions are," said one. critical. tweeted.
Another person writing"I don't usually talk about this stuff here, but please don't buy Atomic Heart. The main promoter has links with a Russian gas company. Game money will help finance the war in Ukraine.
As the one-year anniversary of Russia's invasion of Ukraine comes just days after the game's release, many, including the Ukrainian government, argue that purchasing the game supports Russia's assault on the country. Some reviewers of the game have also suggested that the game's release date being so close to the anniversary of the invasion was intentional.
In a statement to NBC News, Alex Bornyakov, Ukraine's deputy minister for digital transformation, said Atomic Heart "has Russian roots and idealizes communist ideology and the Soviet Union." Bornyakov said the ministry sent a letter to Sony, Microsoft and Valve "requesting a ban on selling digital versions of this game in Ukraine."
"We also urge that distribution of this game be restricted in other countries due to its toxicity, potential collection of user data, and potential use of money from game purchases to conduct a war against Ukraine," Bornyakov said.
Officials from the Russian Federation's Ministry of Digital Development, Communications and Mass Media did not respond to requests for comment.
The controversy highlights how an increasingly global video game market has also come under scrutiny, especially over games seen as disseminating propaganda or cultural values.
Mundfish's current website indicates that the company is based in Cyprus. However, a version of the website viewed by NBC News using the Wayback Machine archive site shows, as recently as June 25, that the website stated that "Atomic Heart is one of the greatest projects Solo of the Russian Federation". It is not known why this line was removed.
Russian media covering Atomic Heart years before its release also called Mundfish a Russian video game studio.
A spokesperson for Mundfish did not provide comment to NBC News prior to the publication of this article.
In January, as the debate around the game began, Mundfish tweeted a vague response to some of the concerns about Atomic Heart.
"Guys, we noted the questions regarding our position, at Mundfish. We want to assure you that Mundfish is a developer and studio with a global team focused on innovative gaming and is undeniably a pro-peace organization against violence against people," the company said. tweeted. "We don't comment on politics or religion. Rest assured; we are a global team focused on getting Atomic Heart into the hands of players around the world.
As recently as December, Mundfish listed its investors on its website as Gaijin Entertainment, GEM Capital and Tencent. Gaijin Entertainment and GEM Capital appear to have Russian ties.
Gaijin Entertainment was founded in Russia in 2002.
GEM Capital was founded by Russian businessman Anatoliy Paliy, a former executive of Gazprom entities, according to Russian media Interfax.
GEM Capital did not return a request for comment.
Tencent is a Chinese technology and entertainment conglomerate. Tencent did not return a request for comment.
In a statement to NBC News, Gaijin Entertainment founder Anton Yudintsev said his company was a European-based Hungarian company and denied any ties to Russia. A company spokesperson confirmed that Gaijin was founded in Russia in 2002, but said the company had been based in Hungary since the mid-2010s.
Yudintsev, who says he has lived in Europe for many years, added that it is he, not Gaijin, made a personal investment in Mundfish and stated that Mundfish "is not a Russian entity and does not have Russian branches or investors based in Russia. All founders and managers of Mundfish do not live in Russia and are European residents.
"So basically these accusations are based purely on the ethnicity of the people working on the game and have nothing to do with how the money is flowing, and it would be unfortunate if someone took action based on baseless rumors and speculation," Yudintsev said.
Atomic Heart and accusations of links to the Russian government are a microcosm of an already expanding gambling market in China.
As Chinese companies like Tencent gain a bigger share of the gaming market, some experts wonder what the future of artistic freedom and expression will look like in an ever more integrated industry.
---