Biden calls for 'fair deal' for striking Hollywood writers
WASHINGTON — President Joe Biden on Monday called for a "fair deal" for striking Hollywood writers as he hosted a White House screening of the upcoming streaming series "American Born Chinese" to mark the Month of the Asian American, Native Hawaiian and Pacific Islander heritage.
Biden made his first public comments on the strike, which hits the one-week mark on Tuesday, in remarks ahead of the pilot screening. He was joined by an overflowing crowd of hundreds of community leaders, elected officials, cast members and show producers in the East Room and State Dining Room.
"Nights like these are a reminder of stories and the importance of treating storytellers with the dignity, respect and worth they deserve," Biden said. "I sincerely hope that the writers' strike in Hollywood will be resolved and that the writers will receive the fair treatment they deserve as soon as possible."
He added: "This is an iconic and significant American industry. And we need the writers and all the workers and all the people involved to tell the stories of our nation and the stories of all of us.
"American Born Chinese" is adapted from a graphic novel of the same name by Gene Luen Yang and stars Oscar winners Michelle Yeoh and Ke Huy Quan. It will premiere on Disney+ on May 24.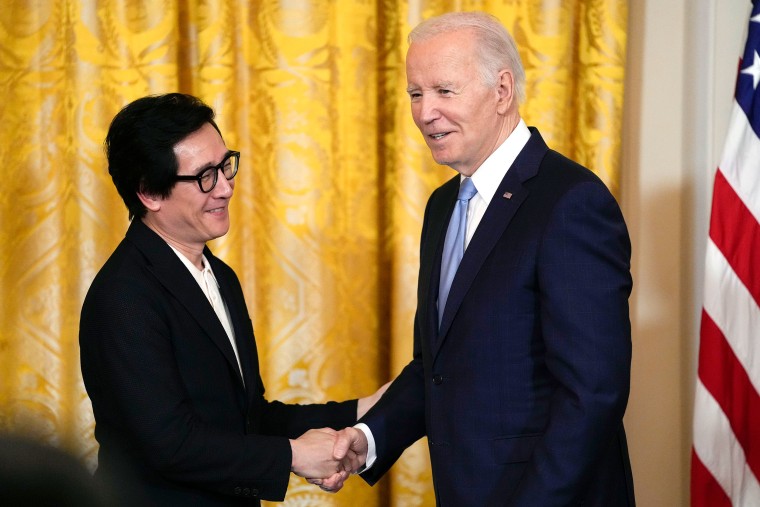 Biden used his brief onstage remarks to describe his administration's efforts to highlight the accomplishments of the Asian American, Native Hawaiian and Pacific Islander communities and to call out the prejudice and violence that targets them.
"Hate can have no refuge in America," Biden said. "Silence is complicity and we will not remain silent"
Quan, who introduced Biden, reflected on his journey from arriving in the United States as an 8-year-old Vietnamese refugee to his first visit to the White House months after winning an Oscar.
"I don't take this moment lightly because I know this building is a monument to a country that has opened its arms to me," he said.
---