Biden sets campaign tone in speech to House Democrats
BALTIMORE — President Joe Biden has yet to announce whether he's running for a second term, but his speech to a gathering of House Democrats here on Wednesday sounded a lot like a stump speech from 2024.
Biden dared House Speaker Kevin McCarthy of California to reveal Republicans' budget full of spending cuts, mocked GOP Sen. Rick Scott's reversal over Social Security and Medicare targeting and hit on "MAGA Republicans" like Rep. Marjorie Taylor Greene of Georgia. an acolyte of former President Donald Trump who recently called for a "national divorce" between red states and blue states.
"A little more Marjorie Taylor Greene and a few others and you'll have a lot of Republicans running towards us," Biden said of GOP voters in 2024. "Isn't she amazing?"
House Democrats laughed and cheered.
Biden also claimed that drugmaker Eli Lilly's announced on Wednesday that it would cap the cost of insulin at $35 per month.
"Here is the market. I called on the prescription drug companies to lower the price of insulin to $35 for everyone, not just seniors. And today Eli Lilly, the largest insulin manufacturer in the United States of America, agreed to do just that: $35," Biden said.
"But guess what that means? Every other insulin company is going to have to drop their prices to 35 because they can't compete."
Biden and House Democrats huddled in a hotel in Baltimore's Inner Harbor on Wednesday night as the party develops a messaging strategy to help it retain the White House and win back a majority in the House next year. . On Thursday, Biden is scheduled to meet with Senate Democrats on Capitol Hill.
Later this week, Republicans will welcome Trump to the Conservative Political Action Conference at National Harbor in Maryland, just outside the nation's capital.
Some Democrats expressed frustration with the lack of coordination between the White House and Democratic lawmakers as they tried to communicate to voters their legislative victories over the past two years.
At the rally here, Biden spoke about how Democrats could improve their cooperation as they begin to see the fruits of the infrastructure package, a gun reform law, the CHIPS and Science Act and the the Climate and Health Care Act known as the Inflation Reduction Act.
Biden said a subgroup of his cabinet will work closely with a new group of House leaders, dubbed the Regional Leadership Council, to coordinate events across the country to promote things like ribbon cuttings in infrastructure and the awarding of federal grants — events that could help Democrats seek re-election.
"Friends, you all know everything we've done. Much of the country still doesn't know that," he said. "That's why the big task ahead of us is to implement the laws that we have passed, so that people start to see it in their lives."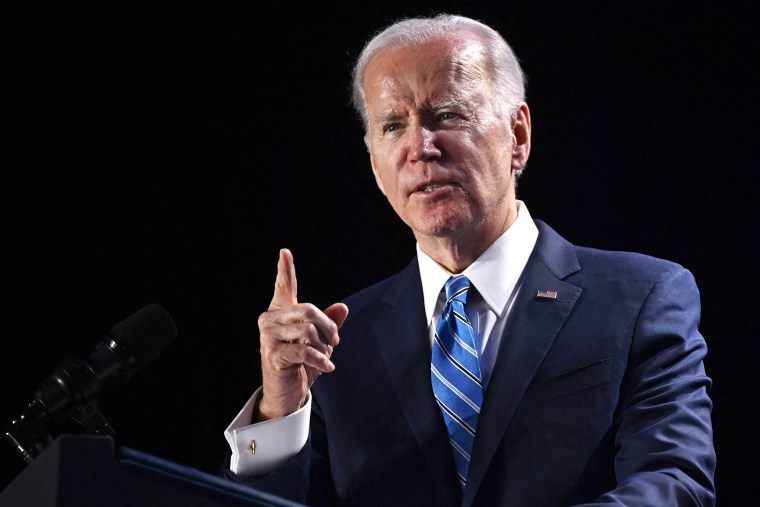 "I have promised to partner with you and coordinate with you to ensure that the implementation of these laws is done effectively and efficiently and let the American people know who did it as they feel the benefits. investment – ​​you made it."
During the three-day conference, Democrats will also hear from Vice President Kamala Harris and senior administration officials, including Commerce Secretary Gina Raimondo; Biden's infrastructure czar, Mitch Landrieu; Michael Regan, Administrator of the Environmental Protection Agency; and two former House Democrats, Health and Human Services Secretary Xavier Becerra and Housing and Urban Development Secretary Marcia Fudge.
Biden was preceded on Wednesday's program by Wes Moore, Maryland's first black governor. Former House Majority Leader Steny Hoyer, D-Md., described Moore, an Afghanistan War veteran and Rhodes Scholar, as "one of our nation's most exciting leaders," and many have spoken of him as a future presidential candidate.
"Now more than ever, the United States Congress actually reflects the beautiful diversity of the country. Now more than ever, this government is like the people it serves," Moore said.
"A government that looks like the people helps deliver for the people it represents."
Opening the "People Over Politics" issues conference, several party leaders said the goal for the next two years was to regain control of the House – and put New York Minority Leader Hakeem Jeffries in the president's office.
"House Democrats are united, focused, motivated and ready to continue to put people before politics. During the last Congress, we were able to achieve important victories for the American people," Jeffries told reporters Wednesday, referring to bills signed into law over the past two years.
"It's an agenda that we will support, that we will continue to bring to life, as we push it forward this year and throughout the rest of this Congress," Jeffries said.
Democrats lost their House majority midway through 2022, but their better-than-expected performance put them in a prime position to retake the chamber next year.
Representative Suzan DelBene of Washington, leader of the House Democrats' campaign arm for this election cycle, noted that with Jennifer McClellan's victory last week in Virginia, Democrats only need five net seats. to take over the House next year.
Republicans, she said, control 18 House seats in districts Biden won in 2020, giving Democrats "an incredible opportunity."
"The American people are with us. We have incredible momentum," she said. "We came out of the last election incredibly strong with momentum. And we work hard to continue to make sure our message is heard by the American people and that we hold Republicans accountable for their extreme agenda.
---