Bradley Cooper speaks out on prosthetic nose controversy in 'Maestro'
Bradley Cooper defended his use of a prosthetic nose in the upcoming film "Maestro," in which he plays legendary composer and conductor Leonard Bernstein. 
After the trailer for the Netflix film — which Cooper co-wrote and directed — was released in August, some criticized the actor's use of a prosthetic nose as antisemitic. 
Speaking in an interview with CBS Mornings that aired on Tuesday, Cooper said he wasn't phased by the backlash. 
"My nose is very similar to Lenny's actually. So the prosthetic is actually like a silk sheet and I thought, 'Maybe we don't need to do it because we can take down time of prep.' But it's all about balance. My lips are nothing like Lenny's, and my chin. And so we had that, and it just didn't look right," he explained. 
"So when he's young we have a prosthetic here and it just moves out, so by the time he's older, it's the whole face. So we just had to do it, otherwise I wouldn't believe he's a human being," he added, motioning to his face.
Back in August when the social media controversy over the use of the prosthetic nose emerged — with some labeling it "Jewface" — Bernstein's adult children, Jamie, Alexander and Nina Bernstein, issued a statement defending Cooper saying he included them in his "journey" to play the maestro.
"It's true that Leonard Bernstein had a nice, big nose," the statement said. "Bradley chose to use makeup to amplify his resemblance, and we're perfectly fine with that. We're also certain that our dad would have been fine with it as well."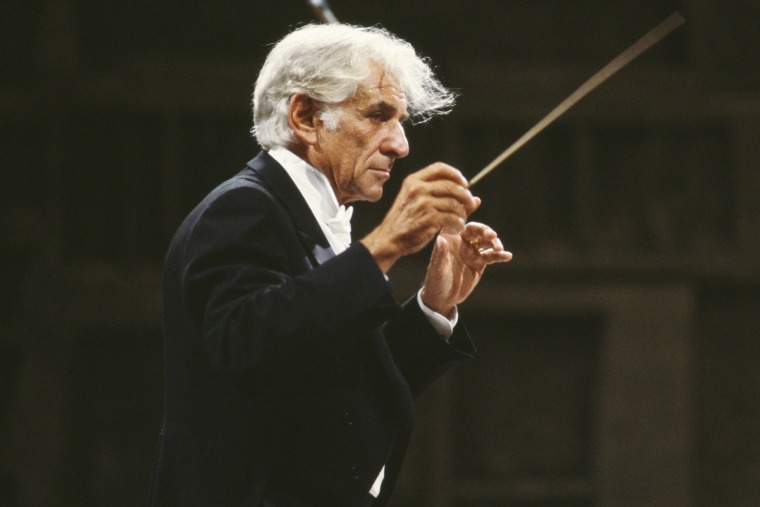 The statement went on to characterize the complaints as "disingenuous attempts to bring a successful person down a notch — a practice we observed all too often perpetrated on our own father."
The three said that they were "touched" by Cooper's "loving embrace of our father's music," adding, "It breaks our hearts to see any misrepresentations or misunderstandings of his efforts."
Cooper, who spent six years preparing for the film, said he believes his intention to shed light on Bernstein and his marriage to Felicia Montealegre will shine through the work.
"Nothing really catches me off guard. The truth is I've done this whole project out of love. And it's so clear me where I come from," Cooper said.  
"Maestro" premiered at the 80th Venice International Film Festival in September. It's scheduled for a limited theatrical release on Nov. 22 and will stream on Netflix Dec. 20. 
---