Democrats show strength beyond Biden
Tuesday's off-year elections provided a respite for nervous Democrats who have started to question whether President Joe Biden can lift the party to victory in next fall's presidential election.
Democrats won critical races in Virginia and Pennsylvania — states seen as barometers for the 2024 vote — as well as in Kentucky, where the governor won by a wider margin in his re-election bid than in his first go-round, beating a rival backed by former President Donald Trump.
Elections on Tuesday put many hot-button national issues to the test — including abortion, crime, election administration and, yes, even the impact of the war in Israel.
Some takeaways from Tuesday:
Abortion boosts Democrats in key races
Since the Supreme Court overturned the landmark Roe v. Wade decision last year and eliminated federal abortion protections, a coalition of pro-abortion rights voters has boosted Democrats in races at all levels while winning a host of abortion-related ballot initiatives in red and blue states.
That trend continued unabated Tuesday.
In Ohio, voters passed a ballot initiative that enshrined abortion rights in the state constitution. In Virginia, Democrats won back control of the Legislature after Republican Gov. Glenn Youngkin campaigned on enacting new abortion restrictions should the GOP win back the state Senate. In Pennsylvania, a Democratic state Supreme Court candidate was able to expand on Biden's margin of victory in 2020 to win a race in which abortion rights were front and center.
Clearly, the issue remains salient to the electorate — a top-of-mind concern as the 2024 election nears.
Biden can breathe after disappointing polls
One of the first Democratic leaders to take a victory lap Tuesday was the president himself.
"Across the country tonight, democracy won and MAGA lost," Biden tweeted. "Voters vote. Polls don't. Now let's go win next year."
The tweet followed a New York Times/Siena College poll that caused consternation among Democrats over the weekend. He trailed Trump by notable margins in five swing states and led in just one — Wisconsin, which he would be likely to lose if he fell in places like Nevada and Michigan.
Even though Tuesday's elections were almost entirely at the local and state levels, Biden was in need of some good news to point to. And the victories provided exactly that.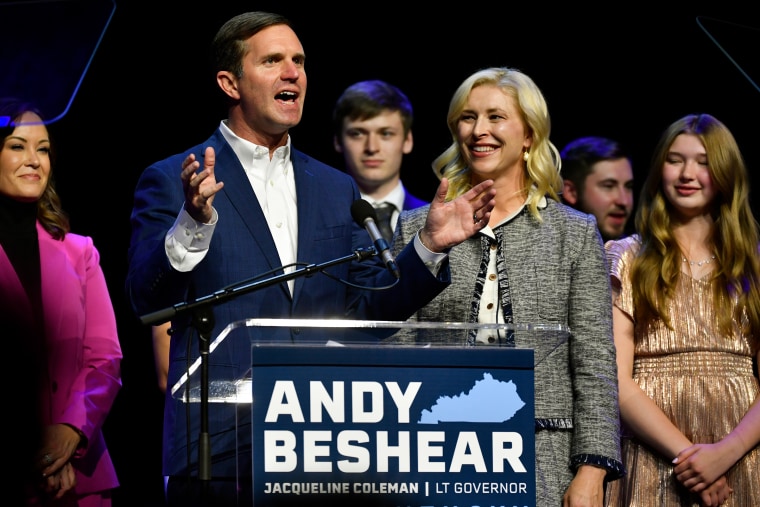 A bad night for Youngkin
For months, the Virginia governor has been rumored as a potential late entry into the presidential race. With Trump's rivals failing to dent his lead in the GOP primary campaign, donors have viewed Youngkin, whose 2021 victory jolted the party and offered hope about a path forward in a post-Trump environment, as a viable alternative.
But even as a late entry into the race appeared unlikely as filing deadlines neared, Youngkin's national future quickly became intertwined with the performance of his party in Virginia on Tuesday night.
It didn't go well.
Youngkin helped lead efforts for months to flip the state Senate and give Republicans a trifecta at the state level — one that would help him enact a sweeping Republican agenda.
Instead, Republicans didn't just lose the state Senate; they lost control of the state House, too.
Though Youngkin may still have a national future after his gubernatorial term comes to an end in 2025 (Virginia governors can't run for two consecutive terms), Tuesday marks a significant bump in the road.
---