Feud over power at Colorado cannabis farm heats up
An aspiring recreational marijuana grower who bought land at one of the largest commercial cannabis operations in the country is fighting to keep his pot dream from going up in smoke.
But the company that owns Area 420, a business park in southern Colorado that includes more than 70 cannabis-related enterprises, wants to foreclose on the property Terry Ferrari purchased in the small town of Moffat, about 180 miles south of Denver.
Moffat enjoyed its 15 minutes of fame last year when Area 420's parent company, Potch LLC, unsuccessfully tried to get the town of 100 residents to change its name to something it thought would better reflect the region's offerings: Kush.
Kush is a strain of indica, a subspecies of the cannabis plant that typically contains a high level of THC, the main active ingredient in marijuana.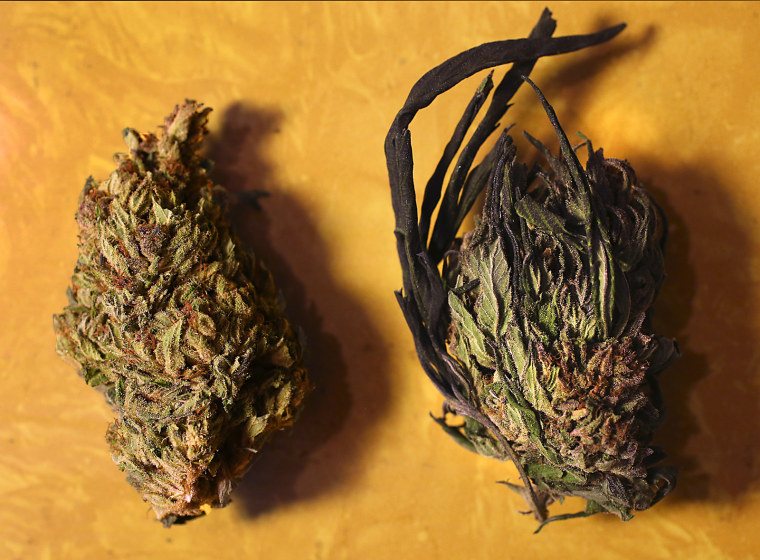 As for the feud, Potch LLC claims Ferrari, through his Ridgeback Holdings LLC, owes at least $100,000 for two parcels he bought in 2021, according to a lawsuit filed Aug. 29 in district court in Saguache County.
He also owes thousands of dollars in interest payments, Potch alleges in the lawsuit.
Ferrari said he bought the land in 2021 for $400,000, paying $200,000 upfront and planning to settle the balance after electricity was installed. But it never was.
Ferrari said he believes that Potch is responsible for ensuring power is available on the property and that the lack thereof has dashed his hopes of making a fortune through marijuana cultivation more than a decade after Colorado became the first state to legalize it.
Ferrari, who said he has spent nearly $2 million to build one of two planned marijuana facilities and fencing on his 4 acres, has refused to continue payments because, he says, he can't operate a cannabis farm without power.
"I've been looking at a big building that I can't use, and I'm in a big heap of trouble, because they promised me power and couldn't give it to me," said Ferrari, who left his previous business flipping homes in Florida two years ago for the chance to work among other entrepreneurs at what Potch calls the largest marijuana-growing collective in the country.
"I put my life savings into this new venture," he said.
The founder of Area 420, Mike Biggio, said Potch was never required to supply power to the property and insists the facts will come out in court.
"It's up to each individual buyer to determine how much power they need, and then they have to pay for it. This is a power company issue, not a developer issue," Biggio said. "I've bent over backwards trying to work with him."
Biggio pointed out there is some electricity on the property, but Ferrari said it's only enough to power the office lights and nowhere near what's required to keep grow lamps glowing night and day at a large-scale indoor marijuana farm.
Potch began its southern Colorado venture five years ago when it bought 420 acres in a symbolic nod to April 20, the day marijuana is celebrated by aficionados around the world, and ensured its annexation by the city of Moffat.
The business park is zoned for licensed commercial growers, manufacturers of marijuana-infused products, and laboratory, testing and research facilities for recreational and medical cannabis.
Moffat Town Manager Cassandra Foxx said the park is the largest of its kind in the U.S., having generated about $400,000 in revenue for the municipality since its inception. The money helped pay to remodel a school and allowed the town to hire its lone police officer.
The contract Potch and Ridgeback signed in 2021 says land costs and interest payments on the property would be due after electricity was installed, but it doesn't specify who is required to pay for the installation.
Ferrari said he intentionally added that clause to the contract with the understanding that Potch would be responsible for installing electricity.
But Potch argues in court documents that Ferrari knew power needed to be supplied through the local San Luis Valley Rural Electric Cooperative.
"Ridgeback proceeded with purchasing the property knowing that there was no promise or guarantee of any electrical utility service at the property," he said in a court filing.
Ridgeback had sufficient time to "inspect and conduct due diligence investigations" before it made the purchase, it added.
In addition to his beef with Potch, Ferrari contends the electric company doesn't have the capacity to supply the amount of power his would-be farm needs.
Eric Eriksen, the CEO of the San Luis Valley Rural Electric Cooperative, said the utility could supply it, but it would be costly. He declined to specify an amount.
The price was "more than what they were anticipating," Eriksen said of Ridgeback Holdings. "It was quite a bit of money."
Potch said in court records that the power demand on Ferrari's property, estimated at 3,000 amps, would exponentially exceed the electrical service of any other business in Area 420.
Although it varies, most homes use 100 to 200 amps, short for amperage, the volume of electricity flowing through wires.
"Having failed to do appropriate due diligence to determine the availability and costs of their electricity needs, Mr. Ferrari and Ridgeback now seek to blame Potch," the lawsuit says.
---