For some Uyghur Americans, worries over detained family members loom over Biden-Xi summit
WASHINGTON — In the lead-up to the meeting between President Joe Biden and Chinese President Xi Jinping, Ziba Murat was nervous. For her, the stakes were deeply personal, and the outcome of the meeting could impact the possibility of her mother's freedom.
Murat says her mother, Gulshan Abbas, has been arbitrarily detained in China since 2018 on false accusations of aiding terrorism because she is a Uyghur. Abbas' case has attracted the attention of the State Department, Congress and human rights groups, which have called her detainment unjust and advocated she be released.
Despite the push for Abbas' freedom, there has been no significant progress, Murat said.
"We're raising our kids without her presence and her guidance, and they're already like, grown up, school age," Murat said. "And it just hurts so much."
For some Uyghur Americans who have family members imprisoned in China, like Murat, the meeting represents a potential opportunity to make headway in their loved ones' cases.
Murat said she sees the meeting between Biden and Xi as a way for the countries' relations to improve and thinks the increased talks could be "an opportunity for China to show a humanitarian gesture and start releasing the innocent family members, like my mom."
At the same time, Uyghur Americans worry about human rights being relegated to the back burner in conversations between world leaders.
The Biden administration has said that China is committing genocide in Xinjiang and repressing Uyghurs, a mostly Muslim minority in China that resides primarily in the western province of Xinjiang. The Trump administration had previously declared that China was committing genocide against Uyghurs just one day before the Biden presidency started.
Uyghur Americans want to see more action, including the administration's efforts to secure the release of family members imprisoned abroad. The U.S. has estimated that since 2017, the Chinese government has detained more than 1 million Uyghurs and other Muslim minorities in internment camps or detention facilities, according to a 2021 report.
Also in 2021, Amnesty International released a report detailing that the Chinese government used the guise of "a campaign against 'terrorism'" to carry out "arbitrary mass detention."
"The evidence Amnesty International has gathered provides a factual basis for the conclusion that the Chinese government has committed at least the following crimes against humanity: imprisonment or other severe deprivation of physical liberty in violation of fundamental rules of international law; torture; and persecution," the report said.
NBC News reached out to China's embassy in D.C. for comment but did not immediately receive a response.
China has previously referred to detention facilities as "vocational education and training centers" to combat terrorism and religious extremism and asserted that they protect basic rights.
Those claims are widely refuted by governments, human rights organizations and Uyghurs.
Officials from the State Department and National Security Council pointed to multiple instances of the U.S. condemning human rights abuses, as well as sanctions on individuals and entities over human rights concerns in Xinjiang.
Elfidar Iltebir traveled from Washington, D.C., to San Francisco to protest Xi's visit and be a "voice for our voiceless people." Iltebir, along with other critics of Xi, demonstrated outside of the San Francisco airport the day Xi arrived, and later in front of the Chinese consulate, she said.
Iltebir wanted to ensure that "Xi is not welcomed by everyone in the U.S., land of the free," she explained.
"We wanted to ask and demand from the U.S. President Biden and U.S. government officials to not put human rights on the side of the table," added Iltebir, who is the president of the Uyghur American Association.
"Xi Jinping is responsible for genocide and crimes against humanity—governments *must* hold him accountable," read a post on X from the Uyghur Human Rights Project.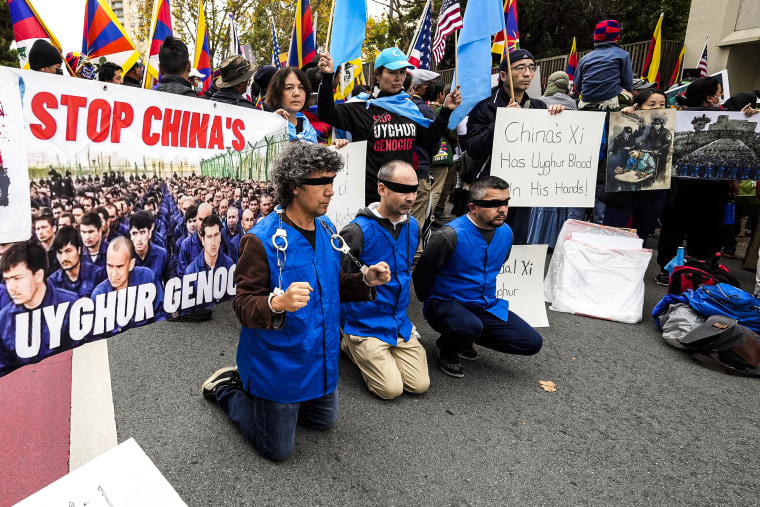 During Biden's meeting with Xi, he raised concerns about human rights abuses in China, including in Xinjiang, according to a readout of the meeting. Officials from the National Security Council and State Department also said that Secretary of State Antony Blinken and National Security Adviser Jake Sullivan have recently raised human rights concerns with their Chinese counterparts as well.
A National Security Council official said that the countries' engagement is necessary to raise areas of disagreement, referring to human rights abuses.
During his meeting with Xi, Biden also raised the issue of exit bans, according to a White House readout of the meeting. "The President again emphasized that it remains a priority to resolve the cases of American citizens who are wrongfully detained or subject to exit bans in China," the readout said.
"I don't second guess the political will and the concerns in the senior leadership, because I meet with them regularly. There's no lack of sympathy. There's no lack of recognition. There's no lack of expressing concerns about the illness, the problem," said Nury Turkel, a Uyghur American and senior fellow at the Hudson Institute. Nancy Pelosi also appointed Turkel in 2020 to the U.S. Commission on International Religious Freedom. "But what I would like to see from our government collectively is the prescription."
Among those subject to an exit ban is Turkel's mother, he said. Turkel is sanctioned by China, which Blinken said in a 2022 statement constitutes "yet another PRC affront against universal rights," using an abbreviation for the People's Republic of China. Because Turkel cannot travel to China due to sanctions and his mother cannot leave, the two have not seen each other since 2004, he said.
"My mom's last desire in this world: to be able to give a hug to her American grandchildren," Turkel said. "That hasn't happened yet."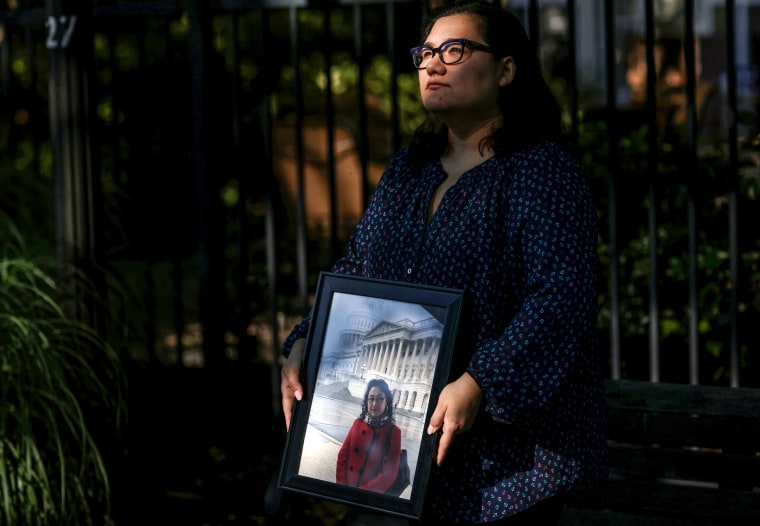 Many Uyghurs also fear transnational repression from China. The U.S. focus on transnational repression is relatively new, according to a State Department spokesperson. When asked whether the newer emphasis on transnational repression is tangibly changing how China is engaging with the U.S., the official declined to speak to the nature of the conversations.
In April, 40 officers of China's national police were charged by the Department of Justice in transnational repression schemes that targeted U.S. residents. Two Chinese nationals were also arrested in April on accusations of establishing a secret police station in New York City to "monitor and intimidate dissidents and those critical of its government," according to DOJ officials.
Iltebir said her home address had been posted online previously, with someone saying, "We know where you live. We're watching you," she said. "And I got scared, too."
She believes the perpetrators were "Chinese trolls" and reported the incident to the FBI. Now, she has cameras on three sides of her house, she said.
In a letter to Biden before the summit, co-chairs of the Congressional Executive Committee on China Sen. Jeff Merkley, D-Ore., and Rep. Chris Smith, R-N.J., urged the president to "demand an immediate end to the PRC's transnational repression activities in the United States," invoking Abbas' case as an example, as well.
Abbas' sister, Rushan Abbas, believes she was detained because of Rushan's activism for Uyghurs in the U.S.
Rushan Abbas is an American citizen and lives in the U.S. Her sister was detained just days after she gave her first public speech at the Hudson Institute in September 2018, her family says.
"As an American citizen, I am doing what I can to expose China's genocidal crimes against my people," Rushan Abbas said. "But yet, my sister is suffering as transnational repression."
When asked about the status of Gulshan Abbas' case, a State Department spokesperson emphasized the sensitivity of speaking to the development of individual cases. The official also pointed NBC News to the government's #WithoutJustCause Political Prisoners Campaign, which highlights Gulshan Abbas' case alongside those of other people who "have been imprisoned for exercising their human rights," the website says.
"We're determined. We're not going to give up, and I will continue to fight for her release, advocate for her and other family members here like her," Murat said of her mother. "I have hope."
---