'I own this choice': Drew Barrymore's talk show reopens despite ongoing writers' strike
It has been five months since the writers' strike commenced in Hollywood. The writers went on strike in light of the labor dispute between the Alliance of Motion Pictures and Television Producers and the Writers Guild. And so, much of the work from television and movies went on hiatus. One such was the Drew Barrymore's show on CBS. However, this week, the actress, who is also the host of the show, took to her Instagram to share a note on the return of the show. Drew addressed the issue of bringing back the show in the midst of the strike. Here is what the message is all about.
Drew's latest post on her talk show's return
In her Instagram post from this week, Barrymore recounted her previous decision to step down from hosting the MTV Film and TV Awards in May, in solidarity with the striking writers. She explained that this decision was driven by her belief in supporting the writers' cause against studios, streamers, film, and television. Barrymore acknowledged that her show's third season had wrapped before the strike began, sparing it from shutdown. However, she now chooses to return to work, citing that her show holds a significance beyond just her individual involvement. She expressed, "I own this choice" and assured that her show would not discuss or promote any struck film or television content.
Her post continued with "We are in compliance with not discussing or promoting film and television that is struck of any kind. We launched live in a global pandemic. Our show was built for sensitive times and has only functioned through what the real world is going through in real time." And so, the ending note of the piece read "And so I take a step forward to start season 4 once again with an astute humility."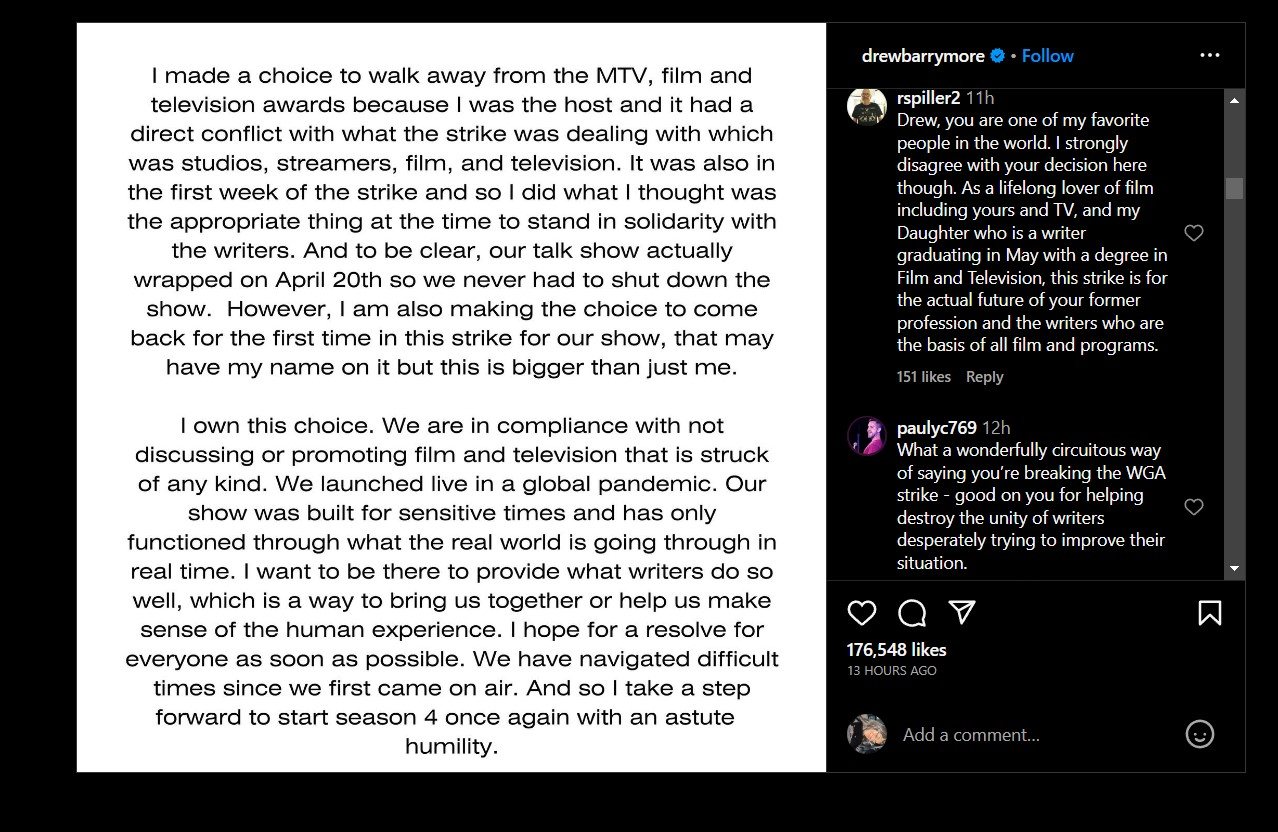 The post certainly attracted debates from the users. Many people commented that they disagreed with this decision. There also was a press release about the show's return. This season, the show will introduce celebrity hairstylist Chris Appleton to the team of lifestyle experts and feature exciting segments, including "Take Care Everywhere" and the return of fan favorites. Barrymore's resilience and creativity have been praised, making her show one of the fastest-growing in daytime television, reports The Hollywood Reporter.
 SAG Writers Strike: Netflix puts up $900k job listing for AI manager
---