'I'd rather sit still than be dragged for being myself': Selena Gomez reacts to criticism over reaction to Chris Brown's VMA nomination
Selena Gomez, the renowned singer, has responded with grace and determination to online mockery she faced for her candid reactions at the 2023 MTV VMAs. The 30-year-old star took to her Instagram Story to address social media users who were sharing memes and stills of her candid responses during the awards ceremony.
Selena Gomez on being unapologetically herself
Selena Gomez didn't mince her words as she took a stand against those who mocked her genuine reactions during the 2023 MTV VMAs. She expressed her refusal to become a subject of memes again. She said "I'll never be a meme again. I'd rather sit still than be dragged for being myself. Much love." 
 Selena Gomez wows with mesmerizing monokini mirror selfie -Take a PEEK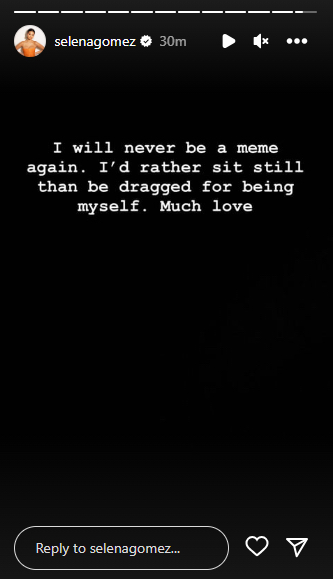 Fans appreciate Selena Gomez's authenticity
Despite the online mockery, fans rallied behind Gomez, praising her genuine and candid reactions. Some noted her apparent discomfort when Chris Brown's name was announced as a nominee in the Best R&B Category, given the rapper's controversial past involving allegations of domestic violence by Gomez's ex-girlfriend, Rihanna. One fan on Twitter said "Selena Gomez grimacing and not clapping when a Chris Brown song was said during the nominees… love her"
 The Idol: How Selena Gomez is similar to Joss from failing HBO series?
Selena Gomez's dignified response to online mockery over her VMAs reactions demonstrates her commitment to authenticity. While some may have poked fun, her fans appreciated her genuine emotions during the awards show, particularly regarding Chris Brown's nomination. Gomez's unwavering stance reflects her character and values, resonating with those who admire her authenticity in the face of public scrutiny.
 'Finally reunion': Selena Gomez gushes over BFF Nicola Peltz and Brooklyn Beckham's cute moments
---