'Just thinkin bout..': Ryan Reynolds shares a casual and hilarious selfie as he jumps on viral social media trend; Details inside
Ryan Reynolds, the ever-charming and witty actor, is widely known for his role in the Deadpool series, wearing a red spandex suit and jumping around. But he is also famous for one more thing, and that is engaging in social banter with fans. The humorous actor never misses a chance to be witty and humorous with friends, his wife, or just fans online. Similarly, Reynolds couldn't help but hop on the hilarious trend with others. In his Instagram story, the Deadpool actor shared a casual and witty selfie.
 'I definitely struggled with a lot of insomnia': When Ryan Reynolds discussed his challenges during the filming of Buried
Ryan Reynolds jumps on a hilarious social media trend
Even celebrities can't get enough of the Roman Empire. Ryan Reynolds is one of many guys who have responded to the viral question, "How often do you think about the Roman Empire?" The app is already flooded with recordings of women asking their male partners, fathers, siblings, and any other dudes in their lives how frequently they think about the empire and reacting to their comments.
Reynolds also took the trend into his own hands, posting a very casual selfie on Instagram story (with sweatpants, glasses, and what appears to be him laying down on a bed) with the message, "Jus' thinkin' 'bout the Roman Empire."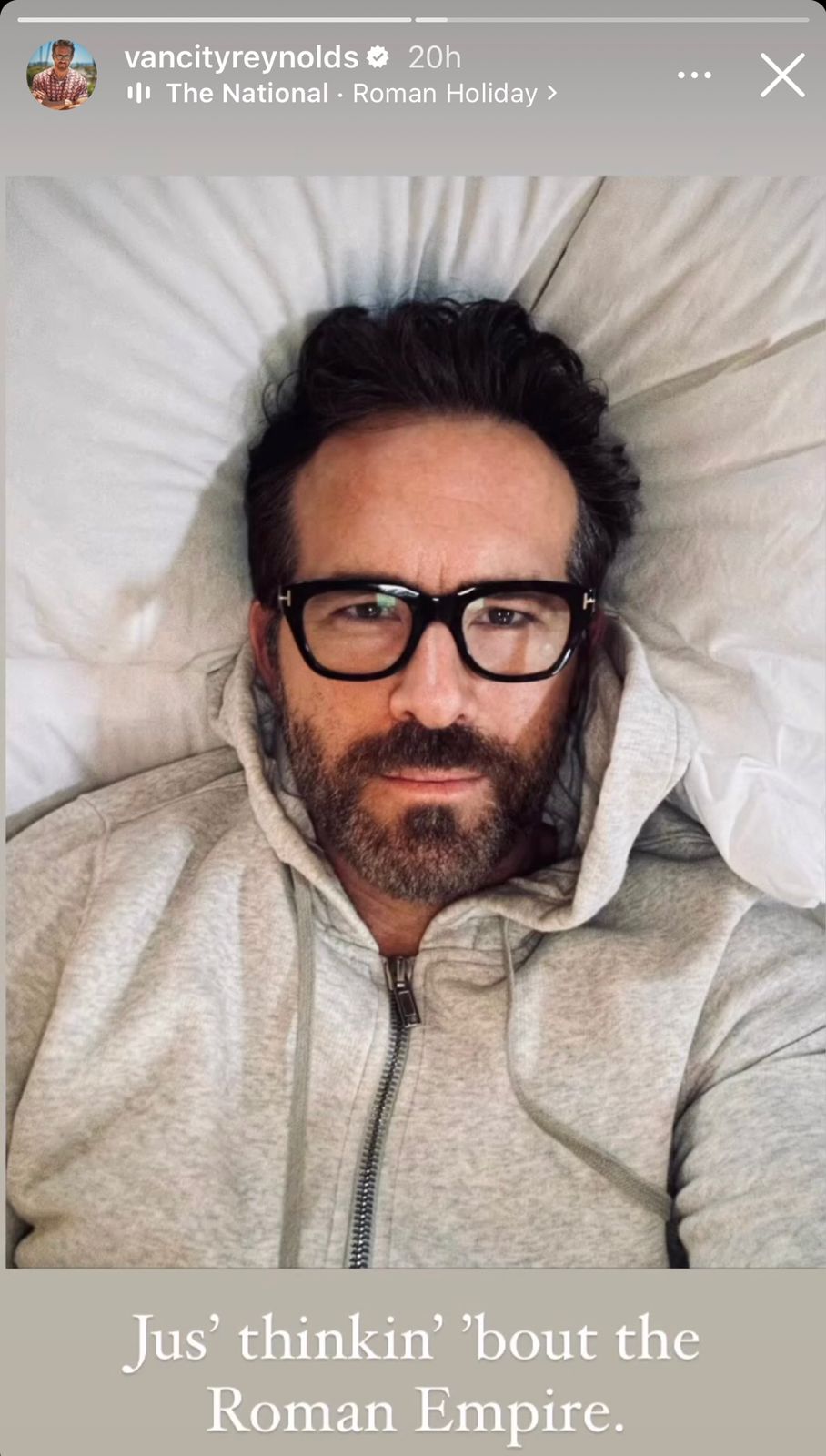 The Deadpool actor also utilized The National's Roman Holiday soundtrack for the selfie, in which he makes intense eye contact with the camera. Although the ever-sarcastic actor's snap did not directly answer the question of "how often" he thinks about the ancient civilization, it did appear to poke fun at the men who do.
Meanwhile, the fad started on August 19 when Swedish Instagram user Arthur Hulu, also known online as Gaius Flavius, posted an Instagram reel saying, "Ladies, many of you do not realize how often men think about the Roman Empire." Since then, several male celebrities have joined in on the fun, or, like Reynolds, have mocked the fad.
Ryan Reynolds is poised to win the Robin Williams Legacy Laughter Award
Ryan Reynolds will receive the Robin Williams Legacy of Laughter award, according to The Hollywood Reporter. During the 11th annual Revels and Revelations, he will be recognized. The event will be held on October 9 at City Winery New York in New York City.
The name of Glenn Close's mental-health charitable organization is BC2M. During an annual fundraiser in his honor, his children, Zak, Zelda, and Cody, present the Robin Williams Legacy of Laughter award. Previous awardees include Billy Crystal, Whoopi Goldberg, Ben Stiller, the Smith family, Dan and Eugene Levy, and Melissa McCarthy.
Meanwhile, Ryan Reynolds is hard at work on his forthcoming features. He is now working on Deadpool 3 and Imaginary Friends, both of which are set to be released next year.
 'I definitely struggled with a lot of insomnia': When Ryan Reynolds discussed his challenges during the filming of Buried
---