Kim Kardashian has a proud mom moment as she shares glimpse of new painting by daughter North West
Kim Kardashian couldn't contain her pride as she shared a glimpse of her 10-year-old daughter North West's latest artistic creation. The reality TV star took to her Instagram Story to showcase her daughter's impressive painting skills on a lazy Sunday but a creative one for North. 
Paint-O-clock for Kim Kardashian's daughter North West
The artwork in question was a breathtaking depiction of a serene ocean at sunset. Kim captioned the post with simple yet heartwarming words, "North's new painting. (A string of colorful hearts.)" 
As it was evident in Kim's story, North's masterpiece featured a radiant sun casting its golden glow across the sky, blending shades of orange and yellow. The sky above was adorned with soft, dreamy clouds, painted in delicate shades of pink and purple. What truly made the painting come alive was the reflection of these cotton candy clouds on the tranquil water below, creating a mesmerizing mirage of colors. Check out Kardashian's story below: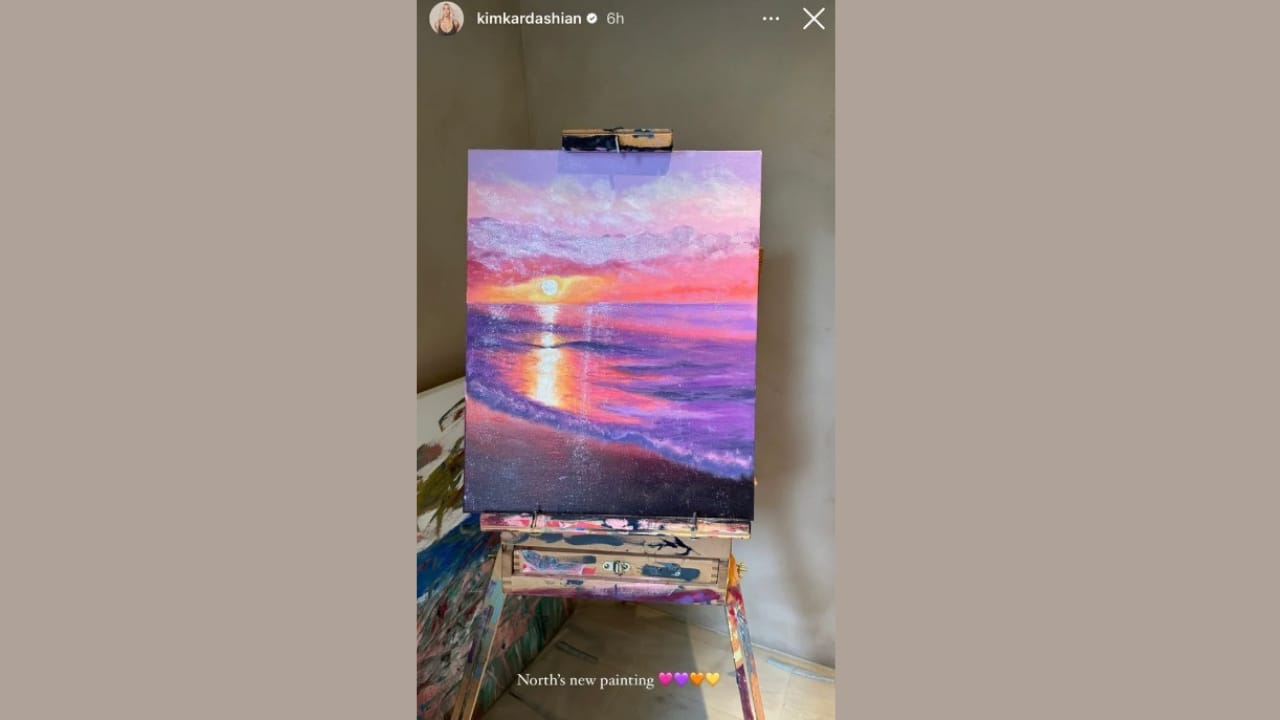 Kim Kardashian faces backlash over using daughter North West for profit amidst USD 45 thousand designer bags
The ocean itself looks like a canvas of vibrant hues, with pink, purple, orange, and yellow merging harmoniously to mimic the magical transition of day into night. It's quite evident that Kim doesn't shy away from using her social media to celebrate little moments and win-win situations of her cupcake, 10-year-old sweetheart, North whom she shares with Kanye West.
If we go back to 2021, there were reports from E! News that when Kim Kardashian shared another artwork created by her daughter North, some people started to question whether North had actually painted it herself. Kim responded to these doubts on her Instagram story by saying, "My daughter and her best friend have been taking a dedicated oil painting class where they're learning and growing their artistic talents. North put in a lot of effort into her painting, and it took her several weeks to finish."
Back then, Kardashian had defended North's art skills and clarified that she had received proper guidance and worked hard on her painting.
 Is Kim Kardashian 'unhappy' with Met Gala invitation fiasco? Insider reveals details
The delightful mother-daughter duo, Kim Kardashian and North West
Kim Kardashian shares a strong bond with her daughter, North West. In fact, Kim has openly described North as her closest friend, as reported by PEOPLE magazine. The two have been spotted together at various events, including the prestigious Met Gala. Kim also showcases their close relationship on her social media accounts, where she even shared a fun TikTok video of North styling her hair.
Furthermore, Kim has been vocal about her co-parenting dynamic with Kanye West in numerous interviews. She emphasizes their shared commitment to prioritizing their children's happiness above all else.
 Is Kim Kardashian talking about pregnancy? The Kardashians star leaves family in surprise with shocking announcement
---