Man arrested for secretly taping Republicans prompts Senate to change security policies
WASHINGTON — Senate security officials have taken further steps to protect the secrecy of senators' weekly closed-door lunches in the U.S. Capitol after a contract worker was arrested and charged with recording the audio of a Republican luncheon in early March, four sources said.
"It's really concerning," Sen. Cynthia Lummis, R-Wyo., said of the incident, which has not previously been made public. "These conversations are an opportunity for senators to speak frankly about the issues. So having people recorded and easily identifiable by voice is problematic.
Capitol Police arrested and charged a 25-year-old Maryland man with a misdemeanor, "interception/use of wiretapping," which was later dismissed, according to court documents. The employee told police he set his phone to record "for several hours" at the Senate Republican luncheon on March 7 and left it behind, according to court documents. When the employee returned with a police escort to retrieve the phone, he was told he was not there. A senator had spotted the phone and handed it over to police, two sources said.
NBC News is not identifying the employee as the charges were dropped. A lawyer for the person did not immediately respond to a request for comment.
The arrest prompted security officials to institute new protocols for contractors and service staff, including requiring workers to leave cellphones in cabinets outside rooms. party meeting before entering the Senate luncheons.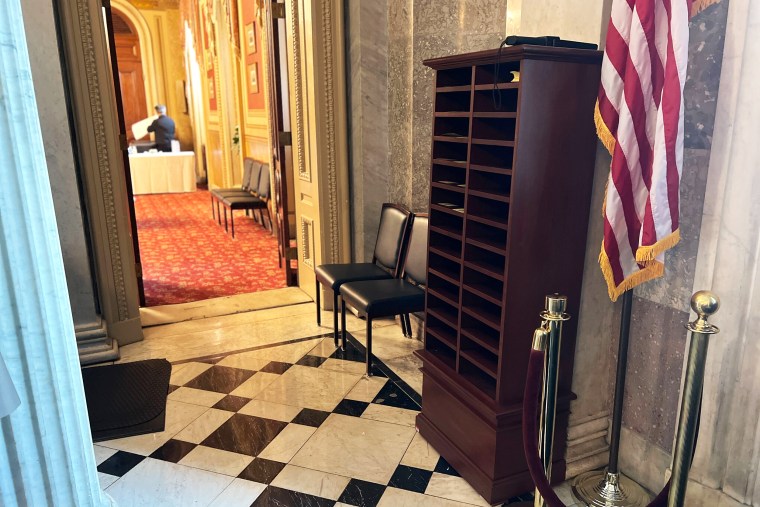 According to court documents, the employee told police before his arrest that he had been recording the meeting "for several hours." He also claimed that he was married to the Vice President of Liberia and "wanted to provide his 'wife' the Vice President of Liberia with American political information".
There is no record that the employee is married to the Vice President of Liberia. The Liberian Embassy did not immediately respond to a request for comment.
According to the document, the employee also possessed "garbage collected" from the Republican Senate luncheon meeting, including "a slide deck of information discussed at the event."
"He was a temporary person hired by the restaurant people. Phone left in registration mode found in food queue," said Senate Republican Conference Chairman John Barrasso, R-Wyo. "It's very concerning."
The person who was arrested was at the Capitol that day as an employee of At Your Service, a food service provider and bartender with operations along the East Coast. The company provides staff for Senate lunches and other functions as a contractor to Restaurant Associates, the company that handles catering services on the Senate side of the Capitol, according to court records.
"This activity is in direct violation of our policies, not to mention the decorum and respect we expect of anyone serving the Senate community," Sam Souccar, senior vice president of creative services for Restaurant Associates, told NBC. News in a press release. "We can confirm that the issue has been resolved and dealt with appropriately."
Asked about the incident, a United States Capitol Police spokesperson said, "We cannot publicly discuss any ongoing investigations at this time."
The Senate Sergeant-at-Arms did not respond to repeated requests for information about the incident or any subsequent security measures.
The Senate's weekly party luncheons, which take place almost every Tuesday on Capitol Hill, provide an opportunity for senators to discuss the week's agenda, as well as strategize on legislation and nominations to come. Meetings are attended by senators and very few staff members; conversations are considered private but are often leaked to reporters.
"I think it was kind of a one-time thing," said Senate Minority Whip John Thune, RS.D. "The question I had was, did someone set it up? And to my knowledge, the answer is no.
When asked why he spoke to police at the Capitol on March 7, the catering employee replied, "I just got into a misunderstanding."
The incident left Republican senators wondering what the employee was doing and why he was able to attend the luncheon.
"I'm very concerned that it's someone near the building and members, some of whom have personal security assigned to them," said Sen. Shelley Moore Capito, RW.Va. "I think it was disturbing when I heard it."
---