New Zealand hostel fire kills at least 6, PM says
WELLINGTON, New Zealand – A fire engulfed a hostel in New Zealand's capital overnight, killing at least six people and forcing others to flee the four-storey building in their pajamas in what a chef of the fire department called Tuesday his "worst nightmare".
Fifty-two people had exited the building, but firefighters were still trying to account for the others, Wellington Fire Chief Nick Pyatt said.
Tala Sili, a resident of Loafers Lodge, told RNZ news outlet he saw smoke billowing under his door and upon opening it the hallway was pitch black.
"I was on the top floor and couldn't cross the hallway because there was too much smoke, so I jumped out the window," Sili said.
He said he fell on a roof two stories below.
"It was just scary, it was really scary, but I knew I had to jump out the window or just burn inside the building," Sili told RNZ.
He said he was rescued from the roof by paramedics and treated for a sprained ankle.
The Loafers Lodge offered basic, affordable rooms with shared living rooms, kitchens, and laundry facilities. It attracted people from a wide range of ages. Some were placed there by government agencies and were considered vulnerable because they had few resources or support networks.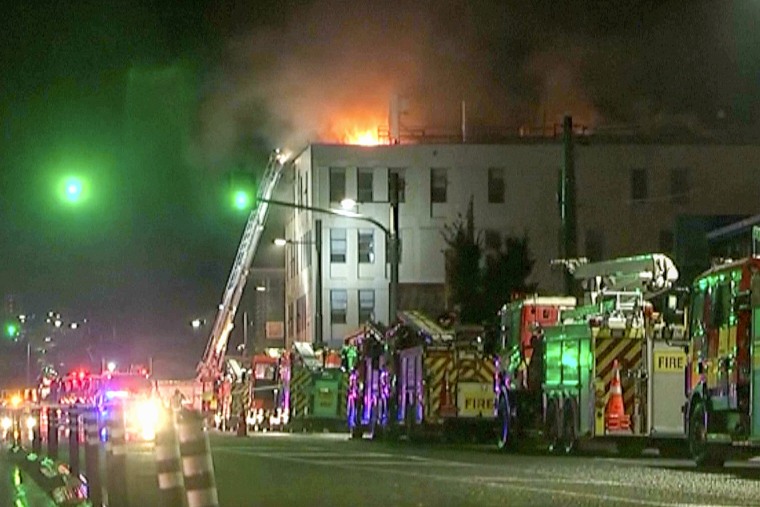 The hostel is in an industrial area and has billboards on one side. Dark patches of smoke lay on the exterior walls of the top floor of the building.
Pyatt said firefighters were called to the hostel around 12:30 p.m. Emergency officials said the building had no fire sprinklers, which Prime Minister Chris Hipkins said was not not required in the New Zealand building code for older buildings that are due for renovation.
Residents told reporters that fire alarms would sound regularly in the building, possibly from people smoking or overly sensitive smoke monitors, so many initially ignored the alert early Tuesday.
Hipkins said the building is currently unsafe for police and it may take authorities some time to confirm the death toll. He told the morning news program he understood six people had died and the death toll was most likely to rise. Police said they did not have an exact count, although they believe the death toll was less than 10.
Police said the cause was not immediately known.
"It's an absolute tragedy. It's a horrible situation," the prime minister told reporters. "Over time, of course, there will be a number of inquiries into what happened and why. It happened, but for now, the focus clearly needs to be on managing the situation.
Health authorities said two people who were in the building were being treated in hospitals and both were stable. Three others had been treated and discharged, while a sixth patient chose to leave before seeking treatment.
Pyatt, the fire chief, said his thoughts are with the families of those who perished and the crews who rescued those they could and tried to save those they couldn't.
"It's our worst nightmare," Pyatt said. "It doesn't get any worse than that."
Wellington City Council spokesman Richard MacLean said city and government officials were helping around 50 people who escaped the blaze and were at an emergency center the council set up place on a running track which had showers and other facilities.
He said a number of elderly people had escaped the building with only the pajamas they were wearing.
"Many are clearly shaken and bewildered by what has happened," he said.
The hostel offered a mix of short-term and long-term rentals, MacLean said. He didn't have all the details, he said, but he believed various government agencies were using them to provide needed accommodation for customers.
Loafers Lodge is near Wellington Regional Hospital and has 92 rooms.
---