PragerU buys 'takeover' ad on X as part of $1M campaign to promote polarizing 'Detrans' film
The Prager University Foundation, a conservative advocacy group, purchased a "takeover" ad on X on Thursday as part of a larger $1 million marketing campaign to promote its polarizing film "Detrans: The Dangers of Gender-Affirming Care."
The 21-minute film focuses on two people who have detransitioned, meaning they previously identified as transgender and later decided they were not. Though both of them began transitioning when they were adults, their stories are part of the film's larger criticism of transition-related care for minors, which has recently become the target of Republican state lawmakers, who have passed laws to restrict puberty blockers, hormone therapy and surgeries in 22 states over the last three years. 
PragerU's X takeover represents the platform's shift toward promoting more conservative — and, critics would argue, more extreme — views after billionaire entrepreneur Elon Musk purchased the platform and removed many of the policies that barred ads promoting anti-LGBTQ views or misinformation, reinstated accounts that previous Twitter management had suspended for anti-LGBTQ harassment, and shared an anti-trans video from his own account. In June, X's chief of trust and safety resigned from the company after Musk publicly undermined her decision to moderate the spread of that same anti-trans video.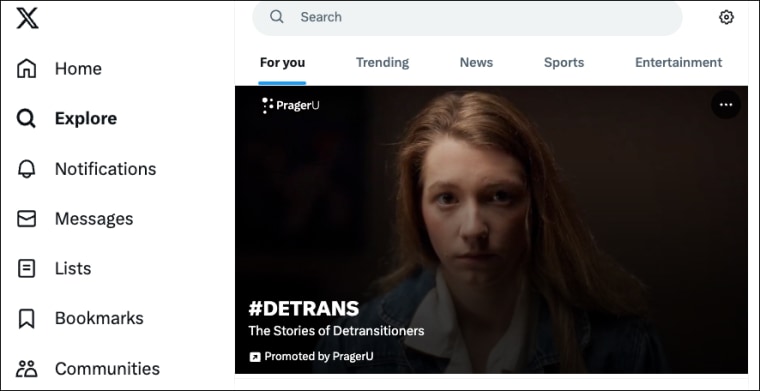 Craig Strazzeri, chief marketing officer for PragerU, named Musk as part of the reason why the nonprofit group advertised on X. 
"We decided to pursue an X takeover because it's a great opportunity for us to reach a massive audience on the dangers of gender affirming care given that X is one of the least censored social media platforms thanks to Elon Musk," Strazzeri said in an emailed statement. "This will give millions of people the opportunity to hear important stories from detransitioners themselves, many of whom have been censored and even ostracized because their lived experiences do not affirm the mainstream media's narrative."
Strazzeri said that, after watching "Detrans," the organization hopes "viewers will have a better understanding of how young Americans are being manipulated by social media and medical professionals to undergo life-altering surgeries that often come with major regret."
Strazzeri's comments echo language used by conservative groups and lawmakers who have advocated for restricting care for minors. However, more than a dozen major medical associations — including the American Medical Association, the American Academy of Pediatrics and the American Psychological Association — support access to care and have opposed laws that restrict it.
PragerU did not immediately return an additional request for comment regarding criticism of the film and the medical community's support for access to care.
In contrast to X, YouTube rejected PragerU's ad takeover placement "almost immediately upon submission," according to a PragerU news release. The advocacy group said multiple film festivals have also rejected the film. YouTube did not immediately return a request for comment regarding why it rejected PragerU's "Detrans" ad campaign.
There have been a number of documentaries about people who have detransitioned in recent years, and in some cases, theaters have canceled screenings due to backlash. Some advocates and trans people have criticized these films — including "Detrans" — which they say are misleading because they focus on the small number of people who detransition when the overwhelming majority of trans people report being happier after transition.
A 2021 review of 27 studies that evaluated regret rates among people 13 and older who received gender-affirming surgeries found that an average of 1% of people experienced regret.
"Detrans" criticizes young people's access to transition-related care, but both of its main characters began medical transition when they were legal adults. Daisy Strongin, for example, was 18 when she began testosterone, though the film doesn't disclose this and shows videos and images of Strongin where she looks younger. Abel Garcia, the other main character, says in the film that he was 19 when he began medical transition.
The documentary describes the case of Layla Jane, who alleged in an ongoing lawsuit filed in June against the Kaiser Hospital Foundation that she received hormones and a double mastectomy at 13, but doesn't interview her.
Kaiser Permanente, the network that includes the Kaiser Hospital Foundation, said its transgender care services "are aligned to guidelines endorsed by major medical associations to meet individual patient needs."
 "When adolescent patients, with parental consent, seek gender-affirming care, the patient's care team carefully evaluates their treatment options and then a multidisciplinary team of physicians and other experienced professionals are available to provide the patient and their family with information, counseling, and other support," Kaiser Permanente said in an emailed statement Thursday.
Though not all trans people pursue medical transition, access to gender-affirming care for minors is widely supported among the medical community and has been found to improve mental health outcomes and reduce suicidality. Standards of care developed by the World Professional Association for Transgender Health, a nonprofit professional association devoted to transgender health, recommends that treatment for all trans people, including minors, be individualized and require informed consent from both the patient and, in the case of minors, at least one of the patient's parents. The standards of care only recommend a gender-affirming mastectomy for minors in very rare circumstances.
PragerU's "Detrans" documentary argues that young people are fast-tracked into medical transition, though it doesn't include the viewpoints of any physicians. 
It's unclear exactly how many people an X trending takeover ad reaches. The ad information on the platform's business site says takeover ads "are the most premium, mass-reach placements that drive results across the funnel by taking over the Timeline and Explore tabs." X did not immediately return a request for comment regarding the estimated reach of an X trending takeover ad.
X users who saw the ad Thursday had a variety of reactions, ranging from enthusiastic praise for the film to criticizing it as pushing "harmful lies." 
Kelley Robinson, president of the Human Rights Campaign, the country's largest LGBTQ rights organization, condemned Musk and X for "prioritizing their bottom line over the lived experience and humanity of transgender people." 
"So-called documentaries like the one peddled by PragerU do nothing more than spread misinformation and stigmatize transgender people," Robinson said in a statement. "Given the growing threats of violence faced by the transgender community, offering a platform to this type of hate-filled propaganda is not just immoral–it's dangerous. Today's timeline takeover is another stain on the platform."
---