Russian missile attack hits market in Ukraine, 16 dead
A child was among at least 16 people killed when a Russian missile crashed into a market in the heart of a Ukrainian city, officials in the country said Wednesday.
The attack on the industrial eastern city of Kostiantynivka, the deadliest in months, came hours after Secretary of State Antony Blinken arrived in the capital, Kyiv, in a show of U.S. support. 
Ukrainian President Volodymyr Zelenskyy condemned the "utter inhumanity" of the attack, which he said had hit a regular market, shops and a pharmacy, killing 16 people. "The number of casualties could rise further," he said in a post on X, formerly Twitter.
Prime Minister Denys Shmyhal said that a child was among the dead, and Interior Minister Ihor Klymenko said that 28 people were injured in the strike. He added that a rescuer was among the victims.  
Photos and videos from the scene showed destroyed buildings and firefighters battling blazes. Several showed what appeared to be armed forces carrying a body from the wreckage.
NBC News has geolocated the footage to the scene.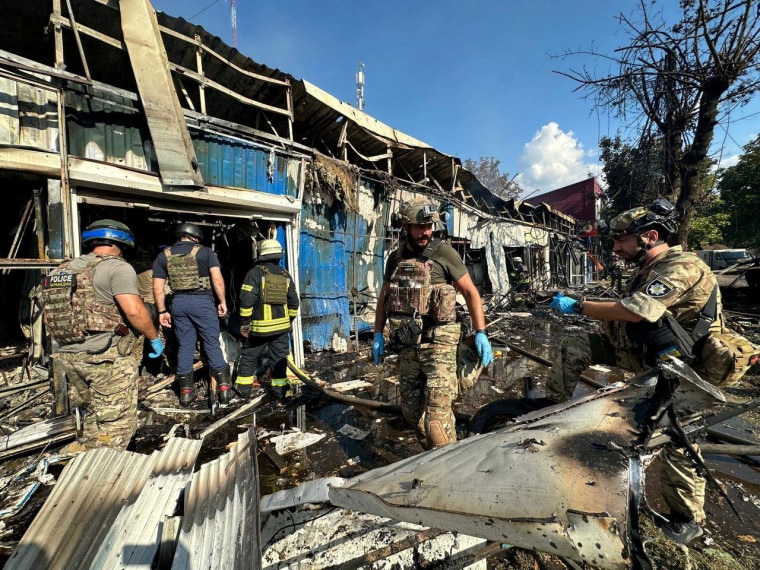 The attack came as Blinken was visiting the country in a gesture of support as its three-month-old counteroffensive against Russian forces searches for a decisive breakthrough.
Blinken, the first top U.S. official to visit Kyiv since the counteroffensive began in early June, met with Ukrainian Foreign Minister Dmytro Kuleba.   
"We want to make sure that Ukraine has what it needs, not only to succeed in the counteroffensive, but has what it needs for the long term, to make sure that it has a strong deterrent," Blinken told a news conference ahead of the meeting.
Kuleba said in an earlier Telegram post, alongside a picture of him and Blinken, that they had paid their respects to "fallen heroes" at Kyiv's Berkovetske cemetery.
Blinken's visit came as Ukrainian forces are fighting to turn what appears to be a minor breakthrough in the south into a substantial breach of Russian defensive lines before winter sets in.
Kostiantynivka is close to the front lines in the east, where Ukrainian forces have also been battling to push Russian forces back in the Donetsk region around Bakhmut.
This is a breaking news story. Please check back for updates.
---