Stanford University hit-and-run victim shares message from hospital
A Stanford University student who was struck in a hit-and-run that authorities are investigating as a hate crime called on others Sunday to "collectively denounce hatred, bigotry, and violence."
Abdulwahab Omira, who is Arab Muslim, shared the message from a hospital bed. The driver, who Omira said was a white man in his mid-20s, made eye contact and accelerated toward him Friday afternoon, striking him as he shouted "f— you and your people" out a window of his Toyota 4Runner, the university in Northern California said Saturday in a public safety alert. 
Omira said he was walking to campus when he was hit. He suffered non-life-threatening injuries, the Stanford Department of Public Safety said. 
"As I lay in my hospital bed, grappling with a reality I had never imagined, I reflect on the importance of spreading love, kindness, and compassion in a world that seems to be steadily succumbing to hatred and prejudice. This ordeal has solidified my resolve to advocate for love, understanding, and inclusivity," Omira wrote in a statement.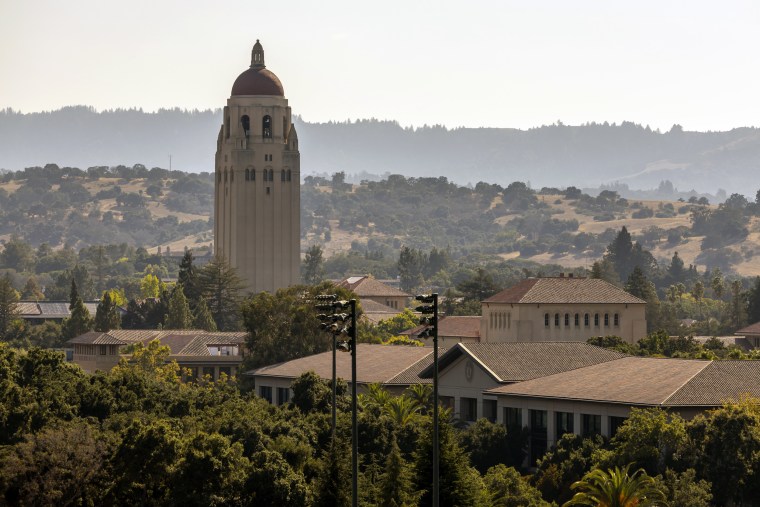 He also denounced what he called a slow response from the university, saying that the school's "belated response came six hours later" and that the subsequent communication downplayed the severity of the incident. 
Omira claimed it took "a multitude of emails and a cry for acknowledgement" to get the university's administration to respond personally. In response to the claim, Dee Mostofi, the school's assistant vice president of external communications, said the university issued a notice as soon as there was enough information from the California Highway Patrol to do so.
Stanford President Richard Saller and Provost Jenny Martinez said in a joint statement Friday that they were "disturbed" about "potentially hate-based physical violence on our campus."
"Violence on our campus is unacceptable," they said. "Hate-based violence is morally reprehensible, and we condemn it in the strongest terms. We want to express our deep concern for the student who was injured, and for all affected by this incident."
Authorities are still looking for the driver, who was described as having short, dirty-blond hair and a short beard. He was reportedly wearing a gray shirt and round framed glasses. The university's Public Safety Department said he fled in the black SUV, model year 2015 or newer, which had an exposed tire mounted to the rear.
Omira said the "emotional scars" of the attack are likely to linger, and he called on others to denounce hatred and celebrate diversity.
"I implore everyone reading this: let us collectively denounce hatred, bigotry, and violence. Let us take the time to understand one another, to celebrate our diversity, and to stand united against the forces that seek to divide us," he said. "There is immense power in love and understanding, enough to overshadow the darkness of hatred."
Omira's is not the first incident of hate to break out on a college campus in the U.S. since Hamas militants launched their Oct. 7 terrorist attack in Israel, prompting a war. A student at Cornell University in Ithaca, New York, was federally charged last week with making antisemitic threats toward his classmates.
---