Station master charged in Greece train crash that killed 57
"For 20 minutes he was in charge of (train) security throughout central Greece," said his client's lawyer.
Greek media reported that the automated signaling system in the accident area was not working, making the station master's mistake possible. Stationmasters along this part of Greece's mainline communicate with each other and train conductors via two-way radios, and switches are operated manually.
The prime minister promised a swift investigation into the collision and said Greece's new transport minister would publish a safety improvement plan. Once a new parliament is in place, a commission will also be appointed to investigate decades of mismanagement in the country's rail system, Mitsotakis said.
In an initial statement Wednesday, Mitsotakis said the crash was the result of "tragic human error." Opposition parties lashed out at the remark, accusing the prime minister of trying to conceal the role of the state and scapegoating the inexperienced station master.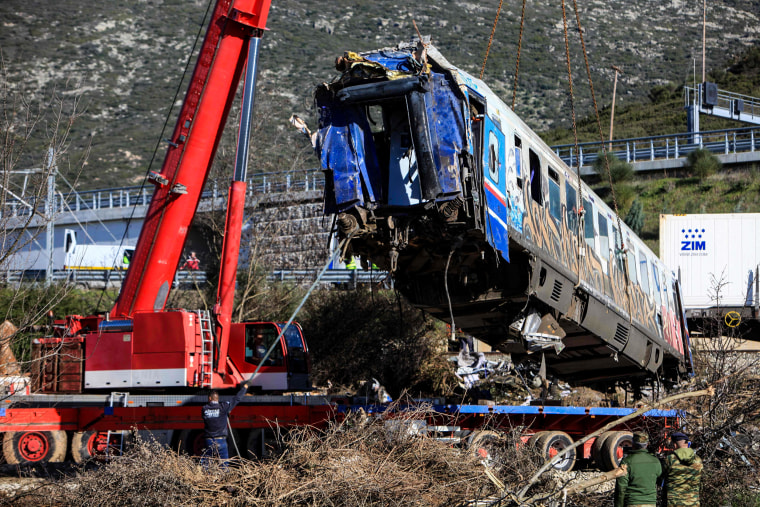 "I owe everyone, and especially the loved ones of the victims, a huge apology, both personally and on behalf of all who have ruled the country for many years," Mitsotakis wrote on Facebook on Sunday. "In 2023, it is inconceivable that two trains travel in different directions on the same track and that no one notices. We cannot, we do not want to and we must not hide behind human error.
Greece's railways have long suffered from chronic mismanagement, including lavish spending on projects that were eventually scrapped or significantly delayed, Greek media reported in multiple briefings. With national rail company Hellenic Railways in debt in the billions, maintenance work has been postponed, according to news reports.
A retired railway union leader, Panayotis Paraskevopoulos, told Greek newspaper Kathimerini that the signaling system in the area monitored by the Larissa station master malfunctioned six years ago and had never been repaired.
Police and prosecutors have not identified the station master, in accordance with Greek law. However, Hellenic Railways, also known as OSE, revealed the name of the stationmaster on Saturday, in a statement suspending the company inspector who named him. The station master was also suspended.
Greek media reported that the station master, a former porter for the railway company, was transferred to an office position in the Ministry of Education in 2011 when Greece's creditors demanded reductions in the number of public employees. The 59-year-old transferred to the railway company in mid-2022 and started a 5-month course to train as a stationmaster.
Upon completion of the course, he was posted to Larissa on January 23, according to his own Facebook post. However, he spent the next month rotating between other stations before returning to Larissa in late February, days before the February 28 collision, Greek media reported.
---