Under pressure from New York City, the Biden admin gives more Venezuelan migrants Temporary Protected Status
Under pressure from politicians and protesters in New York City, the Biden administration on Wednesday is making all Venezuelans who have lived in the U.S. since July of this year eligible for Temporary Protected Status, giving more than 200,000 migrants who crossed the border without legal documentation the right to obtain work authorization and live in the U.S. without fear of deportation.
A source familiar with the decision to extend Temporary Protected Status to Venezuelans told NBC News the decision came after intense pressure from New York Mayor Eric Adams and a chorus of New Yorkers who have grown increasingly frustrated with the federal government's reluctance to grant work authorizations to the 60,000 migrants living in the city's shelter system.
The migrants in New York's shelter system are from all over the world, but many are from Venezuela. Letting them immediately apply for Temporary Protected Status, rather than wait six months after entry or be told they are ineligible, will enable more to support themselves rather than be dependent on the city's services. 
Previously, two DHS officials told NBC News the administration had been reluctant to grant TPS to Venezuelans because it might be miscommunicated and draw more Venezuelans to migrate to the U.S. illegally.
Though the new designation will not let anyone who crossed the border after July 31, 2023, apply for protected status, newer migrants may mistakenly believe they too will be granted work authorization and temporary relief from deportation.
The Biden administration did not mention the situation in New York City in its statement on the new designation, but rather "the extraordinary and temporary conditions that prevent certain Venezuelan nationals currently in the U.S. from returning safely to Venezuela." 
At the same time, the Biden administration announced that it will deploy 800 active-duty troops to assist Customs and Border Protection at the Southwest border, on top of 2,400 state National Guard personnel. The Department of Homeland Security also announced it would expand its program to rapidly deport migrants who cross as a family, a move that could send a message of deterrence to a growing number of families crossing the U.S.-Mexico border.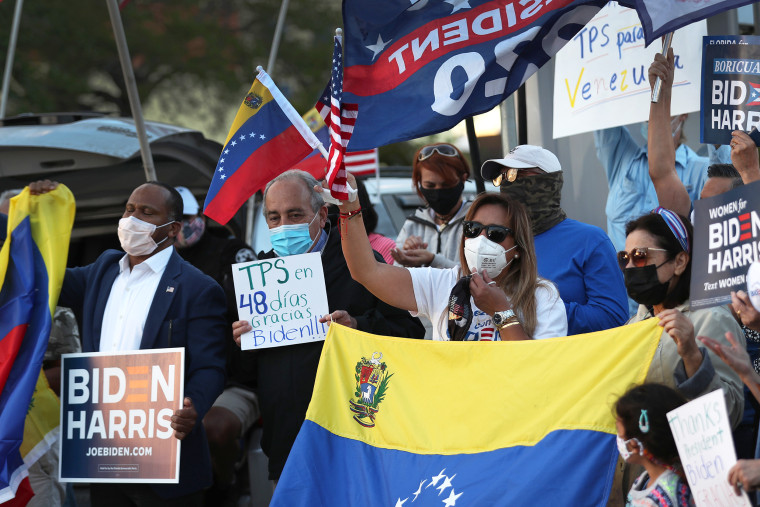 Previously, the Biden administration had made Temporary Protected Status available to Venezuelans who arrived in the U.S. before March 9, 2021. The announcement of eligibility was first made in 2021, and those migrants remain eligible to apply for TPS until March 2024.
---