VP Harris, Latino Biden Cabinet members rally for Biden at Congressional Hispanic Caucus
WASHINGTON — Vice President Kamala Harris and Latino members of President Joe Biden's Cabinet came out in force Wednesday to rally the Latino community behind the administration's fight for abortion rights, health care access and more legal immigration pathways.
At the annual Congressional Hispanic Caucus Institute conference, Harris spoke to a largely supportive, standing room-only crowd and said that the president "has been clear that when Congress puts back Roe v. Wade, he will sign that legislation … That's why elections matter," she added.
CHCI is an arm of the Congressional Hispanic Caucus, composed of Latino Democrats.
Harris said the notion of some states refusing to propose exceptions to abortion, even in case of rape or incest, "is immoral."
"One does not have to abandon their faith to agree that the government should not be telling a woman what to do with her body," she said.
Harris slammed efforts to undo the Deferred Action for Childhood Arrivals legislation by former President Donald Trump and some Republican states, describing them as "unapologetic attempts to undo progress."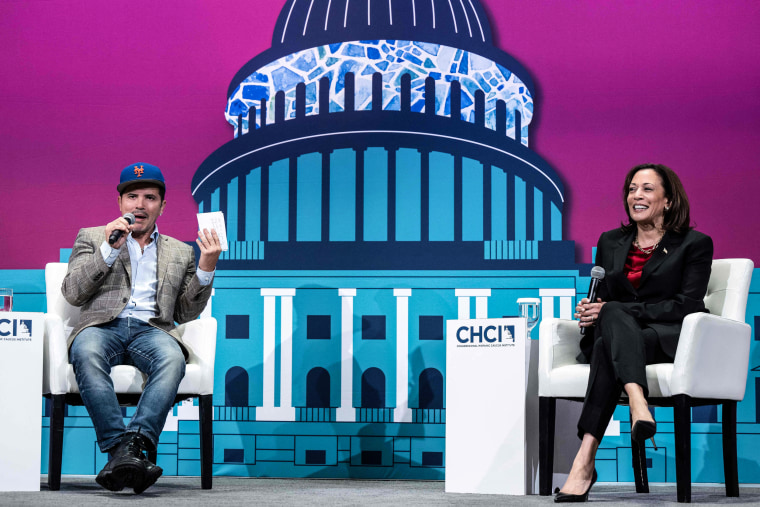 Hours earlier, at the same conference, Biden's four Latino Cabinet members sat together on a panel for the first time.
Health and Human Services Secretary Xavier Becerra, the first Latino to head the Health and Human Services Department, said more Americans than ever, specifically Latinos and Blacks, have health insurance.
Becerra said HHS is doing everything it can to make sure women continue to have access to health care, including emergency services.
He gave the example of his agency intervening in cases in Missouri and Kansas, where pregnant women were denied emergency services because of abortion prohibitions and restrictions. Becerra said denying anyone emergency services is a violation of federal law.
He added that a woman who lives in a state with no access to abortion is two to three more times likely to die giving birth.
Becerra trumpeted the administration's work closing the Covid vaccination gap that it inherited when Biden took office, by providing more than 700 million shots during the pandemic.
"We made sure to erase that disparity," he said, by going into communities to vaccinate people.
Education Secretary Miguel Cardona said that under Biden's school debt relief plan, the debt of 1 in 2 Latinos would have been forgiven, but the Supreme Court struck down the plan.
Cardona said the administration is working on other ways to help debt-laden students, including a new income-driven repayment plan and a crackdown on schools that prey on first-generation students with unkept promises of certain professional certificates, leaving them in heavy debt instead.
"We are also trying to address a racial wealth gap," Cardona said.
Biden is likely to be the Democratic nominee for president in 2024 and even though he won the Latino vote in 2020, Trump and other Republicans made key gains among Hispanics, particularly in Florida as well as in Texas.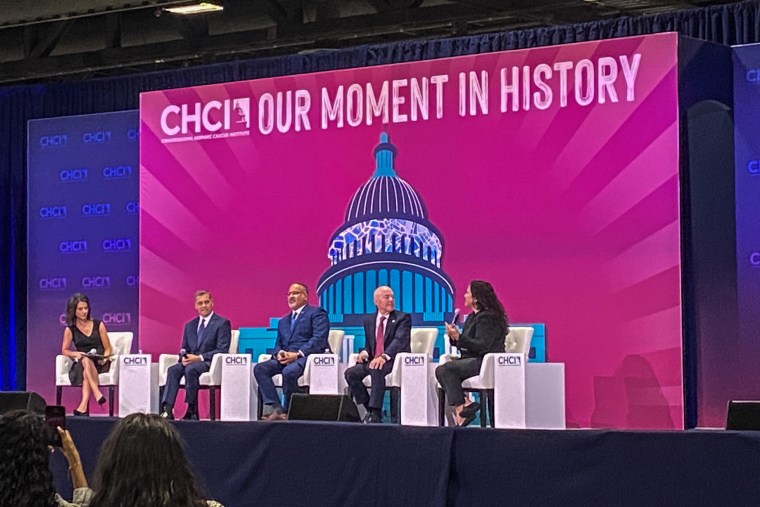 Several polls over the past month have shown Trump doing "historically well" among Latino and Black voters, The Washington Post reported, although the voter samples were small.
Immigration already is taking center stage in the upcoming election, with new increases of illegal crossings at the southern border.
Homeland Security Secretary Alejandro Mayorkas, who has been an impeachment target of Republicans, praised Biden's immigration approach, which has also come under heavy criticism from immigration advocates and progressives.
When asked about the recent surge of migrants, he touted the Biden administration's focus on building "lawful pathways" for migrants/immigrants to remain in the country. "We are incredibly proud to be a nation of immigrants," he said.
Mayorkas drew a line between the Biden administration's policies and Trump's use of family separation to deter migration, when asked about reports of children being temporarily separated by Border Patrol because of overcrowding.
"We ended the cruel policy of family separations" from the Trump administration, he said, adding that more than 700 of those families separated under Trump have been reunited.
But a high-ranking Latino Democratic senator pressed Biden to go further in opening legal pathways.
Sen. Bob Menendez, D-N.J., called on Biden to "urgently and aggressively" use executive action to address immigration, since Congress is very unlikely to do so. 
"Unfortunately, any meaningful immigration reform is not going to come from Congress anytime soon," Menendez said in a media call. 
Among some proposals for executive action that Menendez has previously floated, and raised again in the call, are issuing new visas to address labor shortages, expanding access to the H2A temporary agricultural worker visas in Latin America and the Carribean, and redesignating Honduras, El Salvador, Nicaragua and Venezuela for temporary protected status and issuing it for Guatemala. 
Menendez said Biden shouldn't shy from taking these actions amid the escalating criticism from Republicans and sensational images of people riding atop freight trains from Mexico to get to the U.S.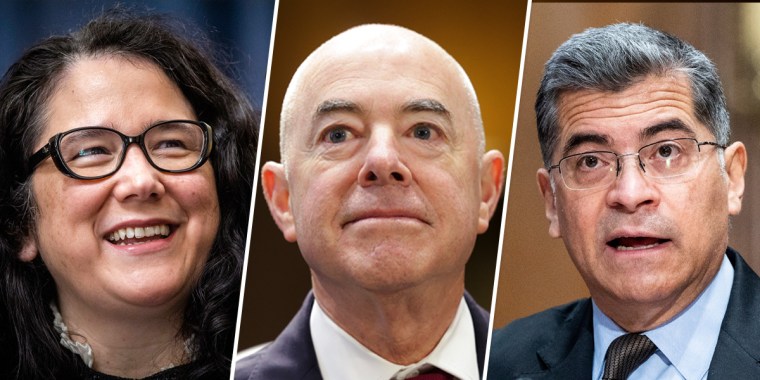 "Creating new links, creating new pathways reduces pressure on the southwest border. It reduces the scenes that we see every day. It reduces the reality of going from 3,500 to 8,000 and it solves the economic questions that Republican governors across the country are calling for … they are actually saying, why can't we offer people who want to do a job here in our state," Menendez said. 
"Running away from this doesn't make this any better," he added.
Matt Barreto, president and co-founder of BSP Research, said polling of Latinos by his firm and by Immigration Hub, an immigration reform advocacy group, found broad Latino support for a balanced approach to immigration "that includes humane and orderly border security."  
"When you couple border security actions — that is, adding more agents to monitor and process immigrants — and also taking action to support the immigrants already living here — we're talking about longtime immigrants who have been working in the United States for decades that people are connected to — that gives you the biggest boost in enthusiasm," he said.
Addressing Latino attendees on the topic of business and the economy, Small Business Administrator Isabella Casillas Guzman said the Biden administration has been addressing barriers to help Latino businesses, which she said are started at higher rates than the general population and contribute $800 billion to the U.S. economy.
---