Was Kylie Jenner's Met Gala a Secret Nod to Timothee Chalamet? Here's what we know
Beauty mogul Kylie Jenner hit the Met Gala 2023 red carpet on Monday wearing a beautiful red Haider Ackermann dress for Jean Paul Gaultier. This wasn't the only Ackermann-designed outfit Jenner wore that night. She also donned an off-the-shoulder black dress later in the evening to dance the night away.
The 25-year-old's choice of designer may be a nod to her budding relationship with Oscar nominee and celebrity boyfriend Timothée Chalamet who appears to be a close friend of Ackerman's.
Is Haider Ackermann's favorite designer Timothée Chalamet?
The 'Dune' actor has a long relationship with Ackerman and has worn his creations to various important occasions in the past. However, he was conspicuously absent from the ceremony even though he had just finished shooting a Chanel commercial in New York City.
At the 2021 Met Gala, the 27-year-old caught everyone's attention in a white satin Ackermann jacket, Rick Owens sweatpants, and Converse shoes, while he showed up at the 2022 Venice Film Festival wearing a red backless T-shirt. In addition, the New Yorker has a favorite pair of shoes designed by Haider Ackermann that he wears often.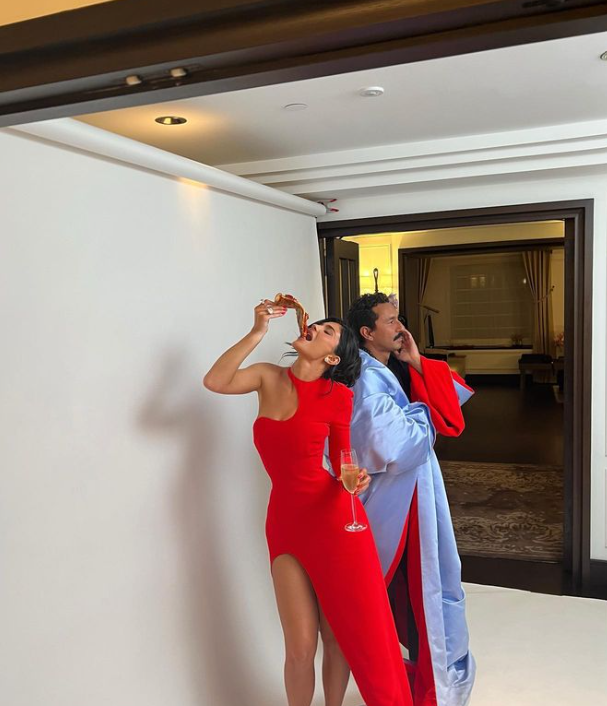 Rumors of Kylie Kardashian and Chalamet's relationship
The two, Jenner and Chalamet, met during the Jean Paul Gaultier show on January 25. This was said to be their first meeting and shortly after rumors sparked that the two might be more than just friends, gossip site DeuxMoi shared a video of the two laughing together.
On April 13, some photos surfaced online where Kylie's black Range Rover was seen parked in Timmy's Beverly Hills driveway. A day later, it was reported that Timmy and Kylie had gone on a "secret date" to a well-known taco joint in Los Angeles. The duo apparently ate tacos in the back seat of Kylie's SUV after Timmy was picked up by her chauffeur and driven to the restaurant. However, the two stars have not denied or confirmed the relationship rumors.
Also read: Kylie Jenner breaks her silence about her facial surgery and says, 'It's a misconception for people to think about it'
---