Which Taylor Swift fan died before her Brazil concert? Exploring details as singer pens emotional note of mourning
Taylor Swift is grappling with the loss of a fan who tragically died during her Eras Tour in Rio de Janeiro, Brazil. In a heartfelt Instagram statement, Swift expressed her devastation over the passing of 23-year-old Ana Clara Benevides. The circumstances surrounding Benevides' death remain unclear, but certain reports suggest that she fainted during the concert and later died of cardiorespiratory arrest at a hospital.
Heat wave and struggles at a concert
The concert took place amid a Brazilian heat wave, with temperatures reaching a staggering 140 °F. Firefighters reported approximately one thousand people fainting at the venue, prompting concerns about the event's organization. Some fans claimed that water bottles were not allowed inside, leading to dehydration issues. Taylor Swift, aware of the situation, paused the show in between to address the need for water, even throwing a water bottle into the audience.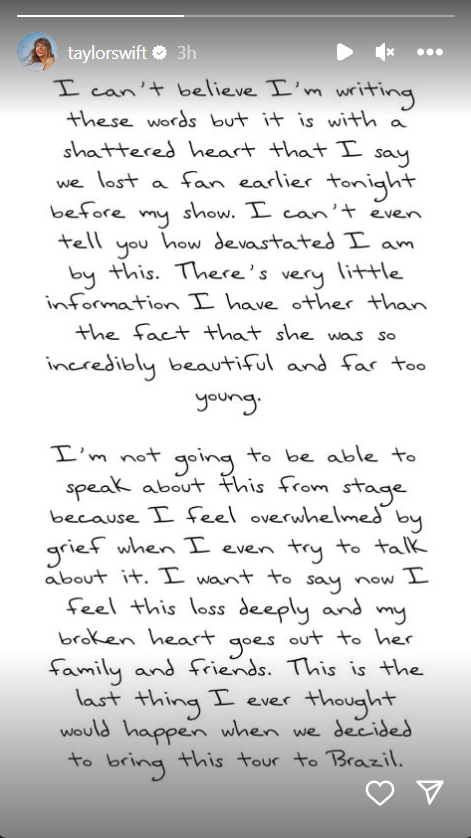 "I can't believe I'm writing these words but it is with a shattered heart that I say we lost a fan earlier tonight before my show. I can't even tell you how devastated I am by this. I want to say now I feel this loss deeply and my broken heart goes out to her family and friends. This is the last thing I ever thought would happen when we decided to bring this tour to Brazil," expressed Swift in her Instagram story. She also said, "There's very little information I have other than the fact that she was so incredibly beautiful and far too young."
 'From singer-songwriter to global phenom': Taylor Swift lauded by 2-time Grammy winner for her growth over the years
Despite the challenges, Swift is deeply affected by the tragedy and shared her condolences with Benevides' family and friends. In her Instagram statement, she expressed her inability to discuss the fan's death on stage due to overwhelming grief. The singer highlighted the unexpected sorrow she felt when bringing the tour to Brazil and emphasized her connection with fans.
Unanswered questions
As fans grapple with the loss, unanswered questions surround the circumstances of Benevides' death. Swift's emotional note underscores the unforeseen challenges that can arise during live events, prompting reflections on concert safety and the well-being of attendees. This tragic incident serves as a poignant reminder of the unpredictability of large-scale events, urging a collective effort to ensure the safety of concertgoers. 
 Taylor Swift's arrival illuminates Christ the Redeemer in spectacular welcome celebration: What we know so far
---