Will Nick Cannon replace Jamie Foxx as guest host on Beat Shazam? Details here
Jamie Foxx, the famous stand-up comedian, established himself as a household name through the popular game show, Beat Shazam. The Oscar-winning talent also serves as an executive producer for the Fox show, which premiered in 2017. However, Jamie Foxx made headlines recently, after it was revealed that he had been hospitalized for the past three weeks due to a medical emergency. Now, the latest updates have confirmed that Nick Cannon will be replacing Foxx as the guest host of Beat Shazam.
Jamie Foxx welcomes Nick Cannon on board
Reports by TMZ recently confirmed that Jamie Foxx has been hospitalized for the past three weeks due to an undisclosed medical issue. Later, it was also revealed that Nick Cannon has been stepping into Foxx's shoes for a while, and will be replacing him as Beat Shazam's guest host. It was also revealed that Foxx's daughter Corinne, who was serving as a DJ on the game show, has been replaced by Kelly Osbourne.
The makers of Beat Shazam announced the new update through the software's official social media. On the other hand, Jamie Foxx welcomed Nick Cannon on board by sharing the post with a private message and confirmed his temporary exit from the show. "Appreciate my boy @Nickcannon. See you all soon," the legendary actor wrote in his post.
Check out Jamie Foxx's Instagram story below: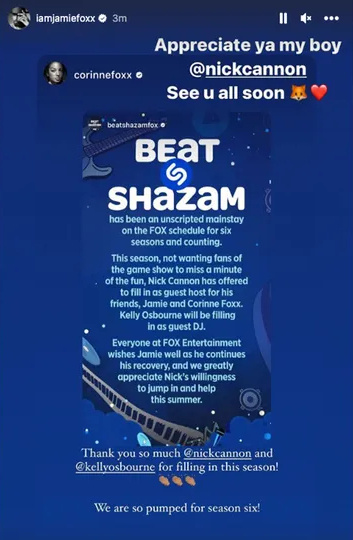 When Corinne Fox released a statement about her father's state of health
After reports about Jamie Foxx being hospitalized started making the rounds, Corinne Foxx, the great actor's daughter, confirmed the same with an official statement. "We wanted to share that my father, Jamie Foxx, had medical complications yesterday. Thankfully, due to quick procedures and great care, he is already on the road to recovery. We know how much he is loved and appreciate your prayers. The family requests privacy during this time," the statement reads.
Also read: Jamie Foxx remains hospitalized for three weeks following a medical emergency; Close friends urge fans to 'pray'
---